Going on a trip to Crete and wanting to bring back memorable souvenirs to each of those moments into your heart and mind? Looking for the best souvenirs on any visit to Crete can be a tough nut to crack. From traditional jewelry and mouth-watering Cretan food to other Cretan products, you will have a variety of souvenirs to choose from while touring here. Crete has a rich history and is famous for its customs and traditions. You will definitely want to cherish your days in Crete with the 'right' type of souvenir, something that speaks to your heart.
A visit to Crete will invariably make you fall in love with the landscapes, its people, and its exotic tastes. Cretan food, inspired by the Mediterranean diet, tastes exquisite. You will find a large variety of Cretan handicrafts to add to your souvenir wish list. Forget impersonal souvenirs such as fridge magnets. On this island, you will find objects that tell a story of their own and are unique to this place. Handmade and authentic Greek jewelry is a sight for sore eyes and is the best souvenir to carry back home in your luggage for yourself or your loved ones. Another renowned souvenir from this island is its sweet Thyme honey which is a healthy alternative and is easy to carry in your backpack or luggage without worrying about exceeding the weight limit at the airport. If you are looking for a souvenir that can be useful as well as memorable, Olive Wood products will make a great souvenir for you; they are easy to carry back home and extremely handy kitchen items. The best souvenirs to buy from Crete are:
Olive Oil
Olive Wood Products
Religious Icons from Monasteries
Cretan Jewelry
Greek or Cretan Recipe Book
Cretan Raki / Tsikoudia
Thyme Honey
Herbs and Spices
Mountain Herbal Tea
Traditional Cretan Clothes
Clay and Ceramics
Cretan Wine
Komboloi / Worry Beads
Cretan Textiles
Leather Accessories, Sandals and Boots (Stivania)
Cretan Daggers / Knives
Baklava & Kalitsounia
Carob Products
Olive Oil
Taking home a bottle of olive oil from Crete is a must, not only because of its health benefits but also because of the history associated with it. The history of the olive tree may be traced back as far as 60,000 years. And Crete, the Greek island, could as well be where it all started. The earliest known olive oil storage jar, which dates to around 3500 BC, was discovered in Crete. The olive tree was used in Minoan times not just as a source of oil but also as fuel and even as a supply of raw materials for the building of houses and boats.
In recent times, not only is Cretan Olive oil the headliner of their cuisine, but it is also the island's most vital agricultural product. The extra virgin variety is of the highest quality, so make sure to grab a bottle or two to help you recreate the dishes in your own kitchen. Crete produces premium olive oil that gives everything you try an entirely unique flavor. You'll want to learn everything there is to know about the special health benefits of Cretan extra virgin olive oil.
Numerous natural skincare lines and beauty products contain Cretan olive oil as well. You may discover olive oil-based natural soaps, hand creams, shampoos, and body lotions. Cretan olive oil, the finest olive oil available, is also the key component in anti-aging, wrinkle-reducing, and regenerative creams. The renowned antioxidant and anti-aging qualities of Cretan olive oil are added to the anti-aging therapies.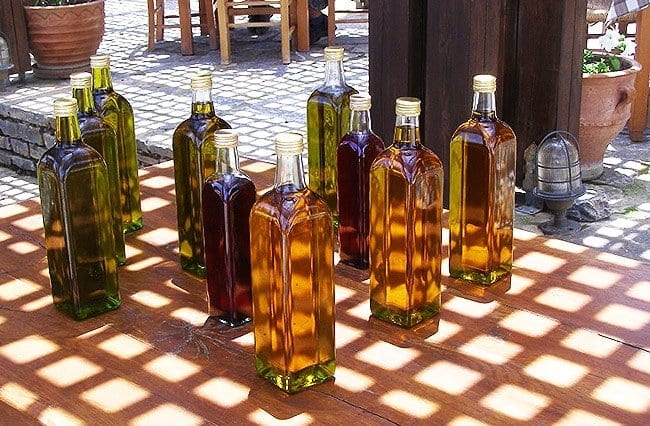 Olive Wood Products
If you like your souvenirs to come in handy and be useful, buying olive wood products during your stay in Crete will prove fruitful for you. They can be utilized as kitchen items or be quirky gifts for your friends and family. You will find entire shops dedicated to selling olive wood products in Crete. With its refreshing smell, the olive wood products will be a great souvenir for your collection of keepsakes.
Generally, branches cut during annual tree cleaning or dry tree trunks are used to fashion olive wood decorative items such as kitchen utensils, cutting boards, candle holders, and napkin rings. These products are eco-friendly and can help you transition from silicon or plastic products. If you are looking to buy larger items, they might be pricier since they require more work and wood preparation. These products are easily available at any souvenir shop on the island. You can discern their quality from local wood by their silky-smooth surface and a natural smell, given off by the Cretan Olive oil coating on the finished products.
Religious Icons From Monasteries
Well-renowned for being a place of intense spirituality and religiosity, Crete has beautiful monasteries, chapels, and churches. Many of these have magnificent relics dating from the Byzantine era in Crete (961-1204 A.D), which is one of the most significant reasons why the island is an ideal destination for religious tourism. If you are in Chania, the Monastery of Chrissopigi, the Monastery of Agia Triada, and The Chapel of St. Sophia are worth visiting. However, if you happen to be in Heraklion, don't miss out on the beautiful and majestic Cathedral and Church of St. Minas, The Church of St. Marcus, and The Monastery of Vrontisi.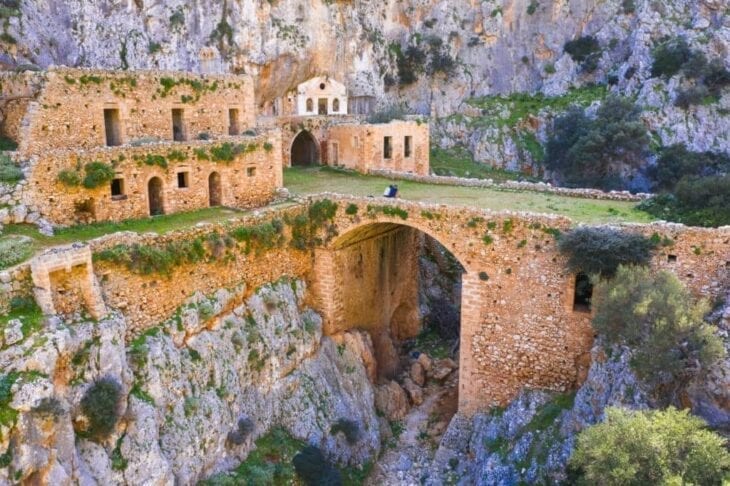 People of Greek and especially Crete are highly religious individuals. You will find an abundance of Byzantine iconography and silver work in the form of religious icons, which make a great token of Greece's heritage to take home with you. Most of these items are handmade, and oftentimes, the artists have crafted them while praying. This holds true, especially for traditional gold-coated and silver icons.
Cretan Jewelry
If you are a jewelry enthusiast, then look no more. For you, the best souvenir to buy will undoubtedly be a traditional piece of Cretan jewelry. Plenty of jewelry shops in Crete make handmade, authentic Greek ornaments for your adornment. However, similar jewelry is also available in local souvenir shops, so it becomes easy for you to shop for other keepsakes simultaneously. Special workshops abound that are dedicated to designing silver jewelry for tourists and visitors. With a little pre-research, you can locate the stores that sell jewelry according to your liking.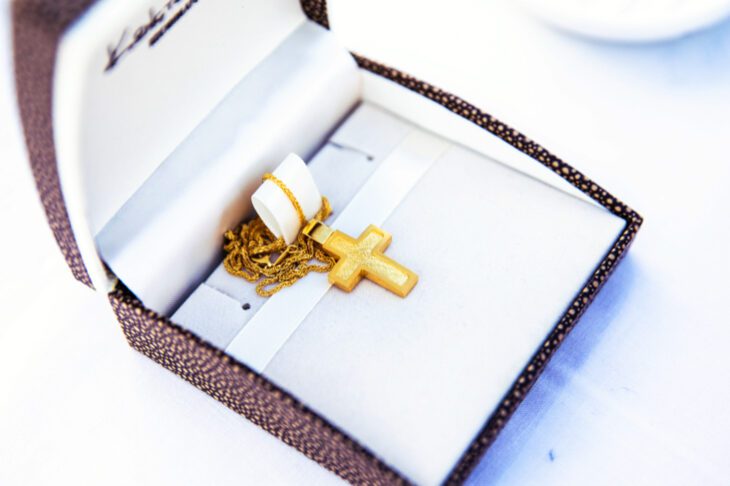 The best thing about Cretan jewelry is the imbibition of historical and cultural characteristics in each jewelry piece. You can find a wide range of jewelry of precious or semi-precious metals made in styles of historical eras from the age of Homer to the age of Lord Byron! A few of the most popular designs include Minoan snakes and Hellenistic and neoclassical patterns, helping you stand out from the crowd. You can also choose the material according to your own preference (such as recyclable materials, semi-precious stones, pure silver, etc.) and watch the Cretan jewelry makers breathe creativity and uniqueness into their work.
If you wish to buy gold or silver jewelry, they are sold by weight. The good thing, however, is the low processing charges which make these pieces relatively cheaper. Ranging from bracelets, necklaces, rings, and earrings, Crete has it all.
Greek Or Cretan Recipe Book
Touring Crete is incomplete without tasting Cretan food and must be on your to-do list when you visit the island. The food here is well-known for being the healthiest and tastiest food in the world. With a unique blend of healthy Mediterranean ingredients with spices that accentuate the taste, Greek dishes are healthy and delicious at the same time. Once you taste these delicacies, you will yearn to bless your tastebuds with an exquisite taste. No matter what time of the year it is, Cretans always find a reason to gather around a table and cherish appetizing Greek food.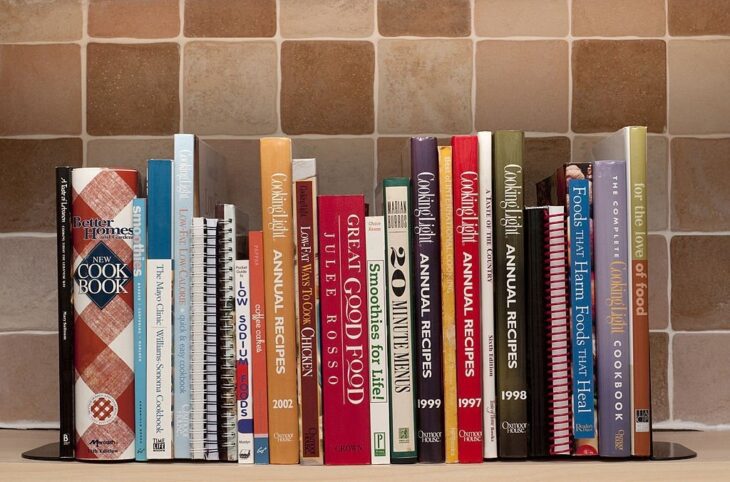 But what makes Greek cuisine so special besides the taste? The dishes are extremely easy to make. Using only a few key ingredients, you can create a delicious yet healthy dish that will satisfy those hunger pangs. Most Greek recipes contain fresh herbs, lemon juice, and olive oil, giving them a distinctive taste. From traditional Greek salad to Moussaka, you have a huge variety of recipes to try from. You might be wondering if, for authentic Greek food, you will always have to come back to the island. The secrets of Cretan cuisine have been preserved in the form of many Cretan Cookbooks. Prepare to travel back to Crete, even if it is merely through its tastes and dishes.
If you want to head back home and be able to cook some iconic Greek dishes with ease, you can take help from some great Cretan cookbooks available in any souvenir shop. These include Foods of Crete, The Cretan Diet, Cooking with Cretans, and The Mediterranean Diet of Crete.
Cretan Raki / Tsikoudia
Typically offered at the end of a Cretan meal, this popular drink is quite famous among the locals. Distilled from the leftover pressed grapes after making wine, this potent and tasty liquor is similar to Italian Grappa. Carry over the tastes of your holiday into your everyday life when you bring home a bottle.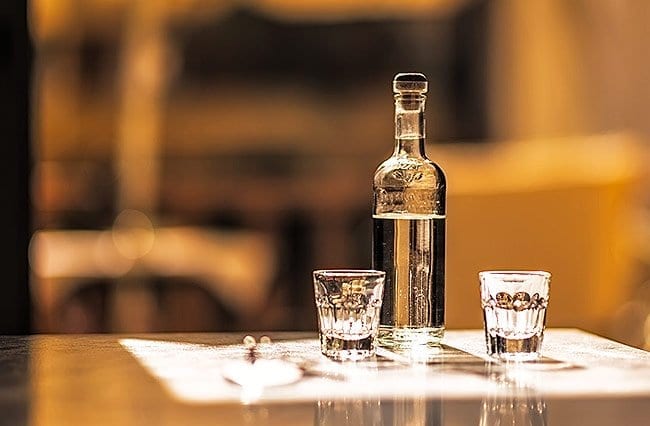 On Crete, Raki is the beverage that is usually always served. This Cretan beverage is seen as a sign of social interaction, nobility, and friendliness. Simply said, it is the Cretan people's national beverage. Every meal is usually followed by its serving, and Raki is often available to be consumed.
When the Cretans welcome visitors, congregate in the old-fashioned cafés, get rid of their anxieties, and triumph over challenges, there is usually a glass of Raki nearby. The goal is to just establish a pleasurable social encounter, not to get wasted or stuffed to the gills with food. So it only makes sense for you to take Raki back with you as a souvenir.
Thyme Honey
In ancient Greece, honey was called "ambrosia", meaning the food of the gods. This is clearly indicative of the admiration Greeks had for honey. Depending on where the bees forage, Greek honey has many varieties. Usually made from pine trees, orange blossom, or thyme, honey has a plethora of health and antiseptic benefits. The premium quality honey is Thyme honey, with its deep golden color and rich, viscous texture like silk. The honey is extremely fragrant, and depending on its variety, the thickness and viscosity differ. But the best part? Any variety that you choose is never overly sweet and extremely healthy for you. Use it as a spread for breakfast, or add it to your tea or milk to enjoy the amazing taste.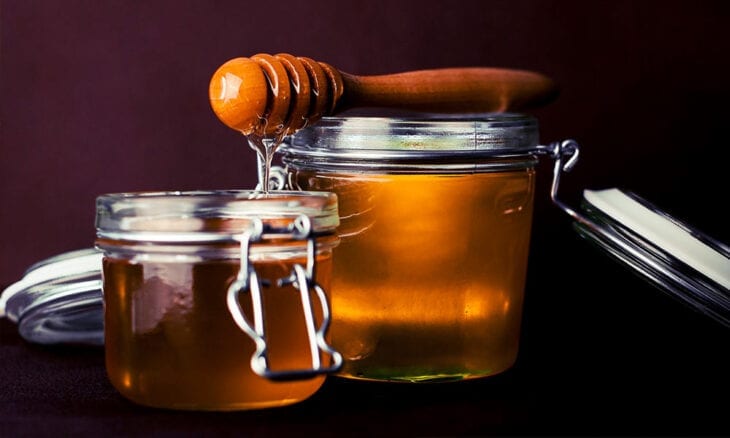 The secret behind the delicious and unique taste of Cretan honey is the climate of the island. Crete receives no rain throughout the year, making the Cretan flowers waterless and rich in flavor. Due to this reason, the nectar produced by bees creates extraordinary taste. Most honey found on the island comes from thyme, due to which the final product is fragrant. It can be consumed raw or used to sweeten tea. You can easily take a jar of honey back with you as a souvenir, as it can last for ages if kept in a glass jar in a dark place. You can also buy in bulk at much lower prices than found in your own country.
If you are looking for one place to get the best honey on the island, the Public Market of Chania is the answer to your query since the tastiest honey comes from the region of Sfakia, in the White Mountains of Chania. Thus, whichever type of honey you choose, be sure to receive high-quality products.
Herbs and Spices
One of the highlights of the Cretan markets is the mounds of fragrant herbs for sale. If you plan on getting some olive oil, don't forget to pick up some oregano, thyme, and rosemary to really finish off your home-cooked dishes.

The majority of wild herbs and spices in Europe may be found on the island of Crete. Organic herbs and spices are often used in traditional Cretan cuisine to provide meals with flavor, aroma, and variety. The traditional Cretan cuisine typically includes spices like cinnamon and nutmeg, as well as herbs like oregano, thyme, and marjoram. The organic herbs and spices are deliciously pure and natural and free of any additives, flavors, or colors that are artificial.
Many of the herbs and spices are also used by the Cretans to brew flavorful tea. While Chamomile, Lemon Verbena, and Basil tea are all popular among Cretans, Cretans prefer Cretan tea, also known as Greek Mountain Tea and Dittany of Crete.
Mountain Herbal Tea
If you want some delicious tea with healing properties, make sure to purchase some varieties that only can be found in Crete. There is the Diktamo which is known to be therapeutic, Mountain Sage, and Malotira. A great way to relax at home and remember your vacation on the beautiful island.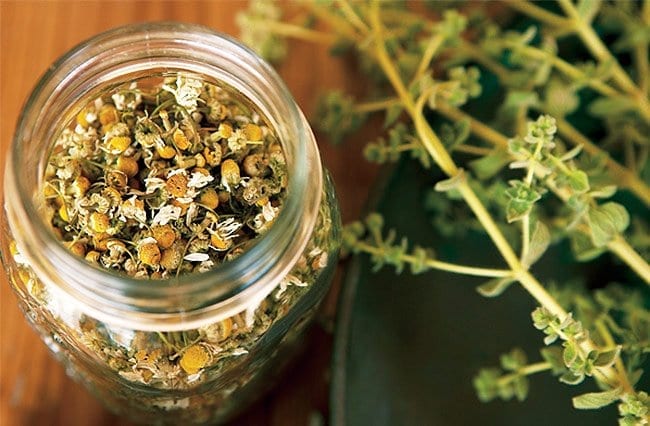 Anti-microbial, anti-inflammatory, and antioxidant are some of its therapeutic effects. Colds, the flu, fevers, allergies, and respiratory issues are all prevented with it. It is frequently used to relieve stomach aches and helps digestion by lowering inflammation in the digestive tract. By widening blood arteries, it reduces blood pressure. Additionally, it lowers anxiousness. You should definitely take this tea back with you because not only does it have numerous benefits, but it tastes amazing as well.
Traditional Cretan Clothes
If you want to be a trendsetter, buy yourself some traditional clothes from the shops in Crete. With a modern twist on the old costume, there are plenty of shops selling wearable outfits for tourists. Don't forget to grab one of the headscarves if you are a daring fashion enthusiast.
Men often wear broad "vraka" breeches that are tucked into white, knee-high boots as part of their regular attire. Under the black "meidanogileko" or waistcoat, a rough-woven shirt in black or a light color is worn. The headdress is a highly distinctive black lacy and fringed kerchief that is either wrapped over the head or draped over the shoulders. A very long, black, or red silk ribbon is fastened around the waist.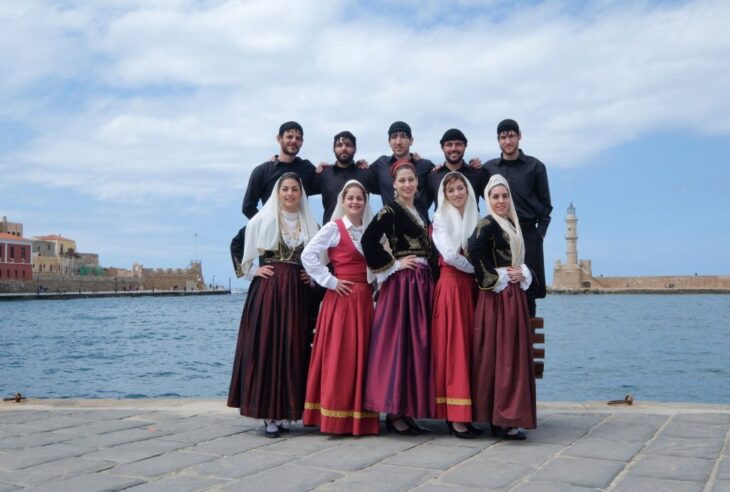 At festival occasions, some women still wear the traditional female Cretan attire. Women are much less likely than men to be seen wearing traditional Cretan clothes on a daily basis. It is more complex than the male attire, sometimes embellished with costly embroidery and gold coins. Typically, it consists of a long skirt and a flowy blouse. These will differ from place to region in terms of color and ornamentation. They will tie a gorgeously embroidered apron, which may be uniquely created for each woman, over the skirt. A velvet jacket with a deeply scooped neckline that does not conceal the breast is then worn over this.
Clay and Ceramics
Crete has had a tradition based around ceramics for thousands of years. Purchasing some of these beautiful pieces will give you a taste of the island's history. If you are lucky, you will be able to find potters who have been in business their entire lives producing some of the most intricate works.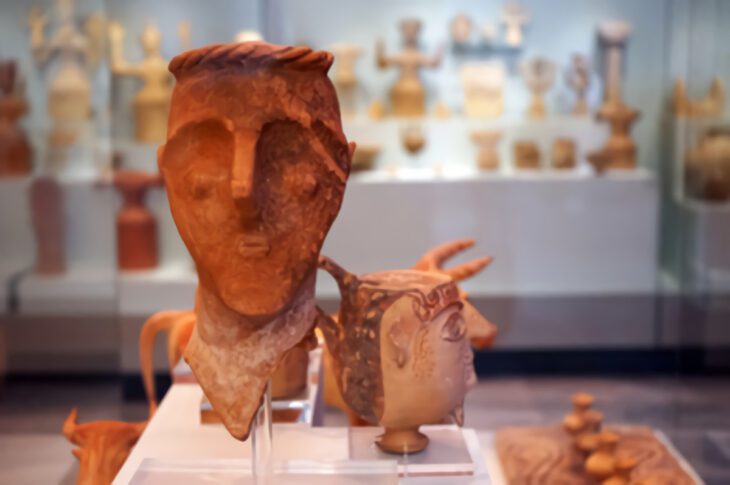 Cretan ceramic art has a rich and distinctive history, and contemporary local artists produce distinctive works that fuse tradition with contemporary aesthetics. The best places to look for them are specialty shops and pottery workshops. We also advise planning a day excursion to the charming Rethymno town of Margarites, where you can buy the finest pottery souvenirs straight from the creators. The shops of archaeological museums and authorized souvenir shops are the finest locations to go if you're looking for copies of Minoan ceramics.
The villages of Margarites and Kritsa are well-known as two of the best spots for purchasing pottery and ceramics. Margarites, which is located in Rethymno prefecture, is widely renowned for being the center of Cretan terracotta art, with skilled professionals creating unique decor pieces in their own workshops. Meanwhile, Kritsa village is home to experienced crafters who specialize in hand-painted ceramics with intricate motifs, inspired mostly by traditional Cretan designs.
Cretan Wine
The sweet Cretan wines are a flavor of Crete that you won't want to forget. Many of them are quite unique and unable to be found in most other places. If your suitcase can fit it, bring a bottle home to serve your friends or family at your next dinner party.
We highly recommend visiting the award-winning Douloufakis winery in Dafnes (Heraklion) to stock your wine cellar or just enjoy a wine-tasting tour and learn more about the Cretan vineyard.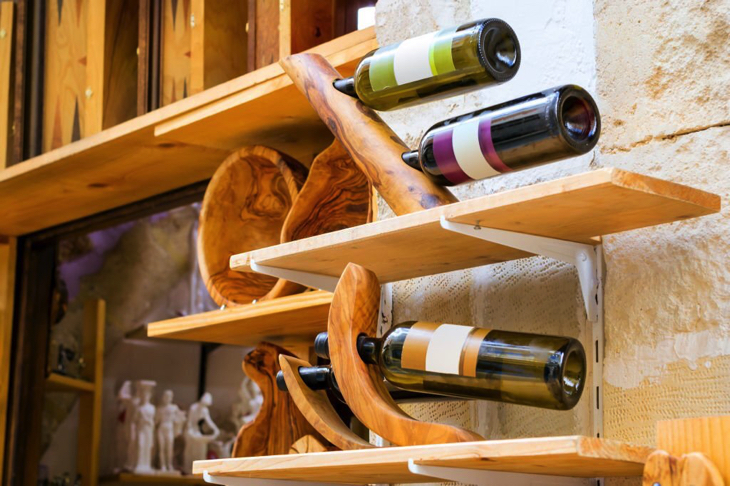 Modern Cretan companies produce a variety of great quality wines by blending well-known types with regional ones (such as kotsifali, thrapsathiri, and mantilari). We advise you to visit a vineyard for tastings or specialty shops since choosing a bottle of Cretan wine is an important business, much like choosing Cretan olive oil.
Komboloi / Worry Beads
If you want to buy your partner a keepsake, you can always opt for the beautiful and colorful worry beads, also known as Komboloi. Made out of beads loosely tied together in a string, Komboloi is particularly well-suited for men as Greek men usually handle and play with these while engaged in conversations or having a cup of Greek tea. You can get them custom-made according to your own taste, using amber beads, stone, glass, or corals, on a silk or silver string. However, ensure that you get a handmade Komboloi instead of an imported one.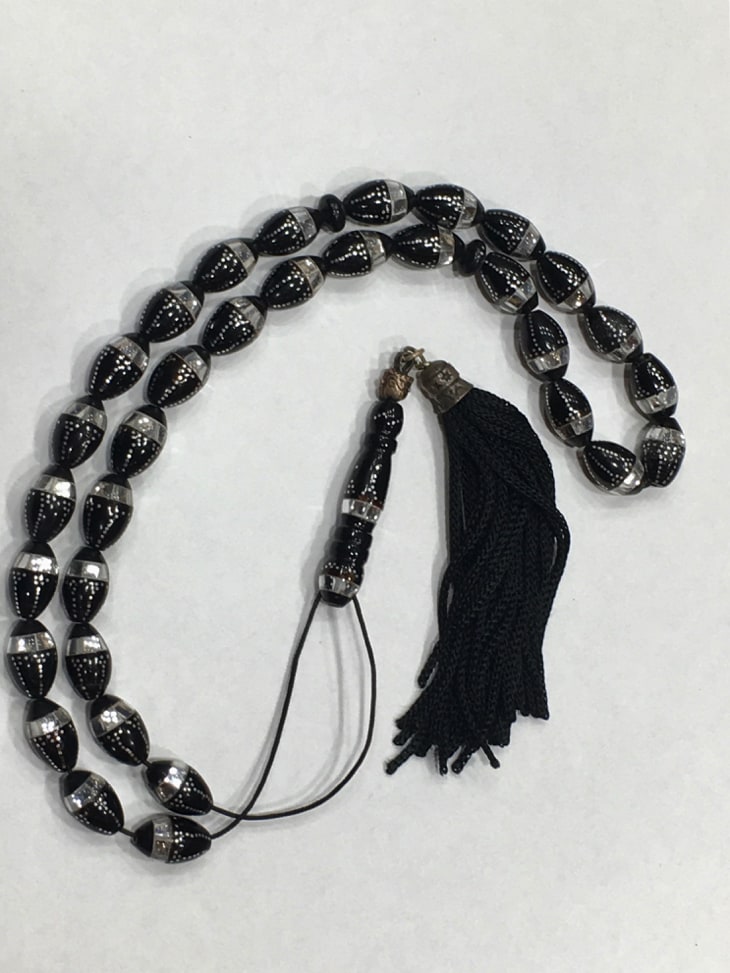 It is believed that moving the beads around reduces stress and anxiety levels and helps in quitting smoking. In addition to this, a local legend associates owning Komboloi with good luck. Whether that's true or not, it can still be a chic addition to your house décor. It is an easy-to-package keepsake and would be easy to fit in your luggage. Nowadays, female versions are gorgeous and easily available. It is definitely among those souvenirs you must not miss when visiting Crete.
Cretan Textiles
If you are a textile enthusiast, Cretan textiles will surely get your attention. Among woolen clothes, sheep and goat wool are used to produce a material called yfandá, which is hand-woven and created with utmost care and love. This material is used to make clothes, as well as carpets and rugs. Even though weaving machines are being used extensively nowadays, finding a handmade piece would not be much of a problem. Clothes with bright colors are made using synthetic colors, while pastel shades are given by the use of natural dyes. Both materials have a price difference and thus help in discerning between the two categories.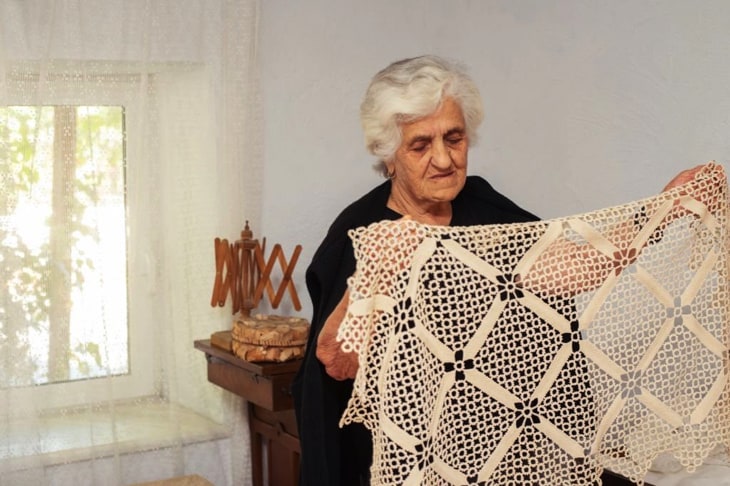 You will find fish and dolphin drawings embellishing the different materials. In addition, stylized figures of Greek goddesses are also in vogue. However, if textiles do not interest you, there is a vast variety of embroidery you can choose from. Beautifully embroidered tablecloths and napkins, especially handmade ones, are expensive but tastefully crafted. However, it might be difficult to locate individuals who still dabble in this craft as it is dwindling steadily on the island.
Leather Accessories, Sandals and Boots (Stivania)
Between the two Byzantine periods, the Arabs that inhabited the island left a variety of traditions and knowledge for the locals to adopt and inculcate in their daily lives. The Saracens taught Cretans the art of working with leather. Due to this reason, you will find an abundance of leather accessories in Crete: handbags, travel bags, sandals, boots, and belts. The traditional tall boots (called stivania), and smartly designed leather bags, jackets, and shoes will give you a range of products to choose from to take home with you.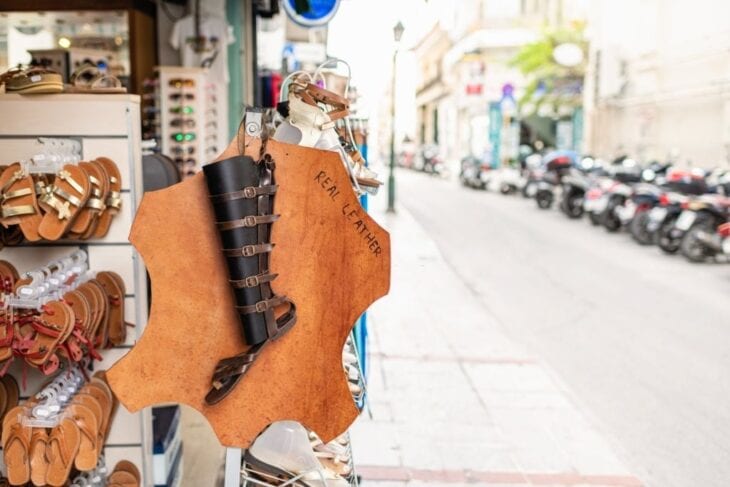 One of the best souvenirs that you can buy and cherish for a very long period is the traditional leather sandals being sold on the streets of Rethymno and Chania. They have low soles, with leather straps to hold your feet in place. Their light weight and durability make them the favorite leather accessory for many tourists. You can style them during the day or night, regardless of the occasion, since they look chic and unique. The Road of the Leather in Chania is a must place to visit if you intend to get a custom-made sandal fully fitted to your feet. Some shops sell modern interpretations of these sandals, which are perfect for walking around the streets of Crete in the heat of summer.
Another important leather product being raved about in Crete are the pair of stivánia or Shepherd's leather boots. These have thick soles and are knee-length. Their durability can be measured by the fact that they are guaranteed to last for many years without damage. Since they are handmade, you will have to place an order a week prior to your departure from the island. These are still worn by villagers and people in remote areas, while in the cities, they are worn during special feasts and celebrations as part of the Cretan dress.
Cretan Daggers
Surprisingly enough, Cretan daggers are one of the most traditional products that you can buy as a keepsake to bring back home. They have been part of the Cretan culture and life for years and years. As a tradition, Cretan males used to carry two daggers; one for their defense and the other for food. However, nowadays, this tradition is only being followed by a few males on the island, but they still symbolize pride and valor for the locals. It, therefore, became part of the typical Cretan dress.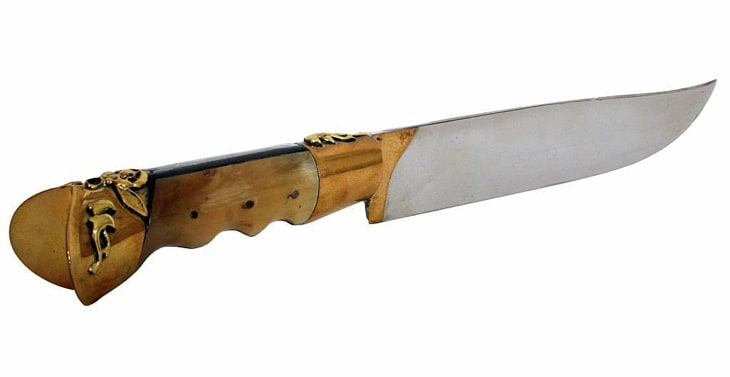 Whether you want a war dagger or a kitchen one with beautiful handles, they will surely be loved by anyone you give them to. The main difference between both daggers is the shape of the handle. While the handles of food knives are built to accommodate fingers, the war daggers have straighter handles with sharper blades. You can look for handmade Cretan daggers as their olive wood handles or the blades are inscribed with mantináda (a local poem). Buying the daggers directly from the producer will ensure the longevity and quality of the knives. And fear not! Gifting a dagger would not appear off-putting because, according to Cretan tradition, offering a Cretan dagger blesses your friendships and prolongs your friendships.
Beware that daggers and knives are not allowed on hand-luggages.
Baklava & Kalitsounia
Do you have a sweet tooth and fancy confectionery wherever you go? If yes, then you are in for a treat. They are usually made with crunchy phyllo, dipped in syrup, or just honey syrup. Mostly cooked in bite-size, these delicacies are generally derived from a mix of Middle Eastern and western as well as Greek influences. Sweets of Turkish origin have been adopted and transformed into mouth-watering Cretan sweets served at various events.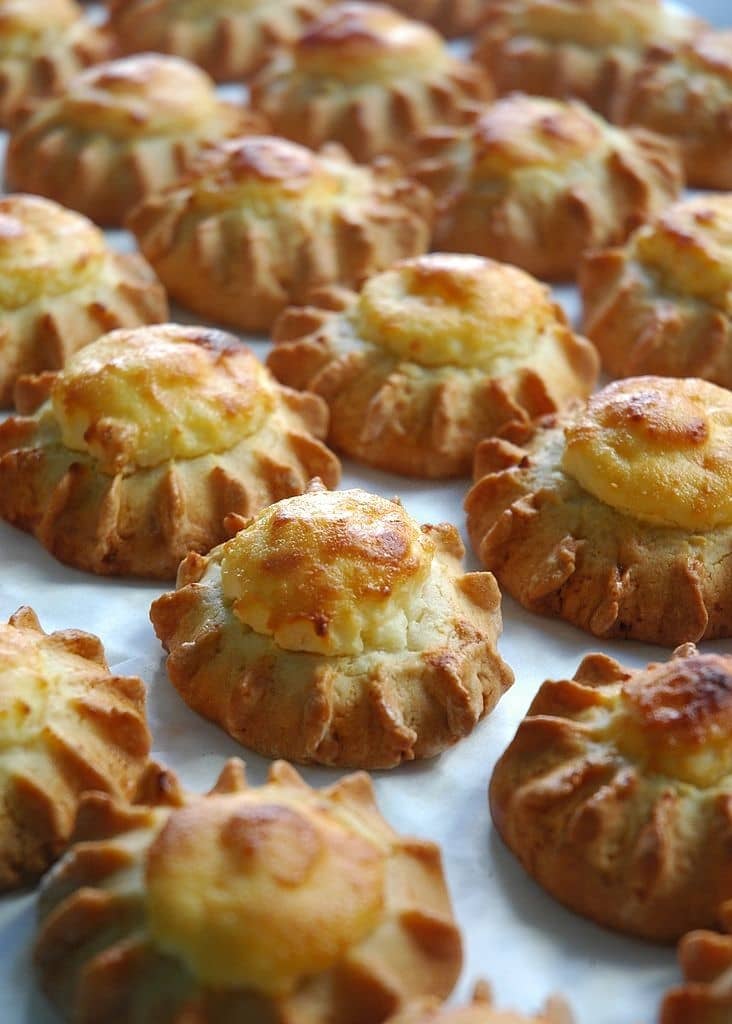 From a huge variety of sweets available, a must-try is the Turkish delight Baklava, which has been transformed into its Greek version by employing phyllo in place of yufka-leaves. Kataifi, another appetizing sweet, are delectable pastries immersed in honey syrup and sprinkled with dry nuts such as almonds, pistachios, etc. Another mouth-watering option for your sweet cravings is Kalitsounia, which are cheese or herb snacks originally found in Crete. They have different fillings and serving variations depending on the region they are in. For example, in Chania, you can find salty kalitsounia, filled with whey cheese mizithra, while the sweet version has honey poured on top. If you go to the Lasithi region, the kalitsounia found there are mainly sweet, with filling made out of mizithra, cinnamon, and sometimes lemon zest.
Carob Products
Look closely while going around the island, and you will find one evergreen tree growing almost everywhere on Crete: Carob. It has exceptional nutritional value and is considered a superfood. Some even dub it as the 'healthy alternative for chocolate'. Many products are derived from the tree, including pasta, tea, biscuits, and our favorite, coffee.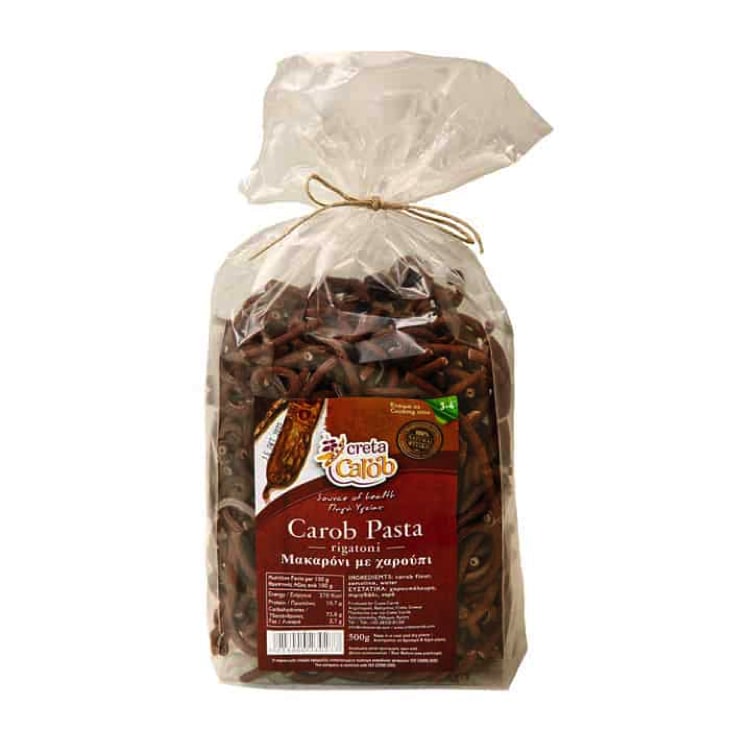 Carob flour is produced from the pod of the tree, which is consumed after drying or roasting. It had even served as wartime food when it fed the rebels residing in the mountains.
A pretty conclusive list, right? Finding the right souvenir for yourself will not be a big deal anymore. Preserve your memories with these traditional keepsakes from Crete, because good memories should be cherished forever!
Where To Buy Souvenirs In Crete?
As one of the most-visited tourist destinations, Crete has countless shops and markets selling locally manufactured, traditional items. Once on the Island, you will rarely find yourself actively searching for a place to buy your souvenirs since they are located throughout the region. You will need to choose which souvenir you are looking for and visit its relevant market. For instance, if you want all the traditional souvenirs in one place, visiting souvenir shops might be the best option for you. These shops sell all the most-coveted and in-demand souvenirs in one place, making it easy for you to buy memorable gifts for yourself and your loved ones back home. On the contrary, if you are looking to buy farmer's produce and fresh Crete food items, farmer's markets will be your best friend. You will also find open markets being set up at many locations, offering a variety of products at great rates.
Can I buy Crete souvenirs from Crete's Markets?
Yes, you can buy Crete souvenirs from markets. In fact, markets can be a great place to find authentic souvenirs at affordable prices. In Crete, you can find markets in most towns and cities,, selling a local products lsuch as handicrafts, textiles, jewelry, herbs and spices, olive oil, and traditional Cretan products. Some of the most popular markets in Crete include the central market in Chania and the Heraklion Market. These markets are usually open daily, except on public holidays. There are also maller markets in villages and towns throughout the island, especially during the summer tourist season.
How much do souvenirs cost in Crete?
The cost of souvenirs in Crete can vary depending on a number of factors such as the type of souvenir, the quality, the location where you are buying it. Generally, you can find small souvenirs such as ceramics, herbal tea bags, spices for as low as 1-2 euros per item. An 1 little bottle of raki would cost about 5 euros, while a 1 little bottle of olive oil would cost 8-9 euros. Larger items such as leather products, ceramics pottery, textiles or jewelry can cost anywhere from 50 to several hundred euros. It's always a good idea to compare prices and quality between different shops before making a purchase. You may also want to consider bargaining with the salesman, especially in markets, as this is a common practice in Greece. In general prices in Crete are lower than Europe or USA in souvenir shopping.