The village of Tavronitis is located near the mouth of the Tavronitis River, which is dry during the summer. It is situated between the beautiful coastline and Crete's White Mountains ("Lefka Ori"). The beauty and nature of the Rodopou Peninsula are breathtakingly beautiful and can be seen from the village. Traditional cafes and pubs, bakers, mini-markets, and a health clinic may all be found inside the village. Olive gardens, wineries, and orange trees abound around Tavronitis, Chania.
It's the perfect destination for travelers who want to get away from the hustle and bustle of city life. It is a great place to go hiking, cycling, or sightseeing in the mountains. There are also great beaches nearby, as well as historic sites you can check out.
If you plan to visit Tavronitis, be sure to check this guide out.
Where is Tavronitis Located?
Tavronitis is a picturesque little town located west of Maleme. Pyrgos Psilonerou and Daphnis Villages are around 4 kilometers west of here. Tavronitis is a peaceful location that serves as both a small tourist resort and a year-round Cretan community.
Things to Do in & Near Tavronitis
Although there isn't much in Tavronitis in terms of partying, there are plenty of activities to enjoy during the day. Here are some you should try out:
Hike in the White Mountains
If you're up for an adventure, be sure to hike in the White Mountains. The scenic trails and views are absolutely breathtaking, and you'll definitely have a memorable experience. You can see all sorts of Cretan wildlife, including birds, geckos, plants, and more. The mammals of Lefka Ori reach an impressive number of 32 species.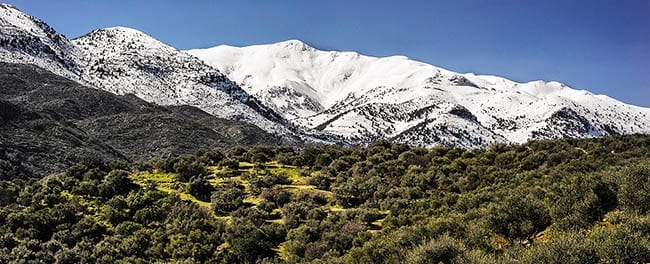 Check Tavronitis Bridge
Sightseeing is a must when visiting Tavronitis, and this beautiful bridge is one of the best places to visit. On the first day of Operation Mercury, this bridge was the scene of fighting. With gliders, the German Fallschirmjagers landed near the bridge. The Germans assaulted Maleme's airstrip from across the river. The Germans took Maleme's airfield the next day. There are still scars from the combat today, as well as two German torpedoes in front of the bridge.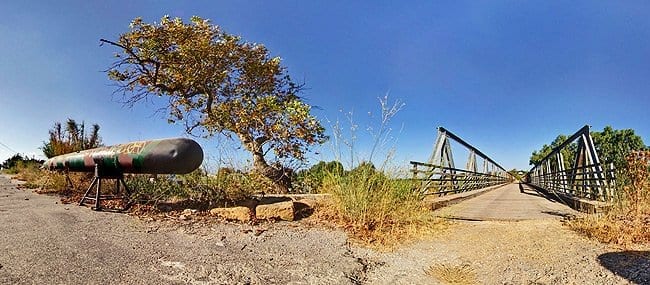 Visit Milia Traditional Village
Milia is located in a verdant valley surrounded by mountains, this charming hotel set in buildings from the 15th-century is 5 km from Topolia Gorge and 14 km from the E75 European Route. It is found in the prefecture of Chania, right at the center of Kissamos province. Read more about Milia here.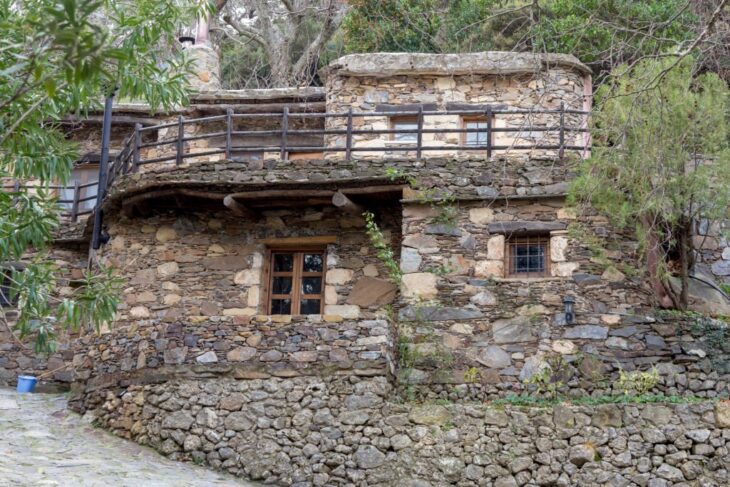 Visit WWII Civilian Memoria
This small memorial honors 12 Tavronitis locals who were killed in retaliation for suspicions that the town was harboring allied troops on July 3, 1941. It had quite a backstory, as told by a local with family members who have been involved. The memorial is set in a park-like setting with olive trees growing in it. It is found right in the village of Tavronitis.
Getting to Tavronitis
There are a few options to get to Tavronitis. These are:
By Car
Driving through the streets of Tavronitis is a wonderful way to experience the charm of the village. There are plenty of parking spots, so you don't have to worry about finding a place to leave your car. You can hire a rental car in Chania since it isn't too far from Tavronitis. The whole trip will only take 19 minutes and you can simply follow the road signs going to the village.
By Taxi
Another way you can reach Tavronitis is by taxi. There are plenty of taxis waiting in Chania, so you can just hail one and get to your destination quickly and easily. You can expect to pay around 21 EUR and the trip will also take 19 minutes. However, if you'd want to be picked up from the airport directly, booking a taxi transfer in advance is a better option.
By Bus
If you're on a budget, then the best way to get to Tavronitis is by bus. There are buses that go from Chania to Tavronitis every hour, so you won't have to wait long for your ride. The whole trip will take around 32 minutes. To reach Tavronitis, just board a bus from KTEL Chania Station. There are direct buses that go to Tavronitis.
Beaches in & Near Tavronitis
Other than being known as a traditional village, there are several beaches that Tavronitis is popular for. Here are some of the best beaches you can find near Tavronitis:
Tavronitis Beach
The beach of Tavronitis is 20 kilometers west of Chania, 1 kilometer north of Tavronitis village, and on the west side of Maleme's old airport, the battleground of Crete. It is named after the Tavronitis River, which flows through the area. The lengthy beach in front of the village is a wonderful pebbly beach, although it is only a small fraction of the large coastline that stretches from Kolimbari to Stalos.
This is perfect for swimming, especially on calm days, as waves on Crete's north shore are a typical problem. There are several hotels, tavernas, and shops along the beach.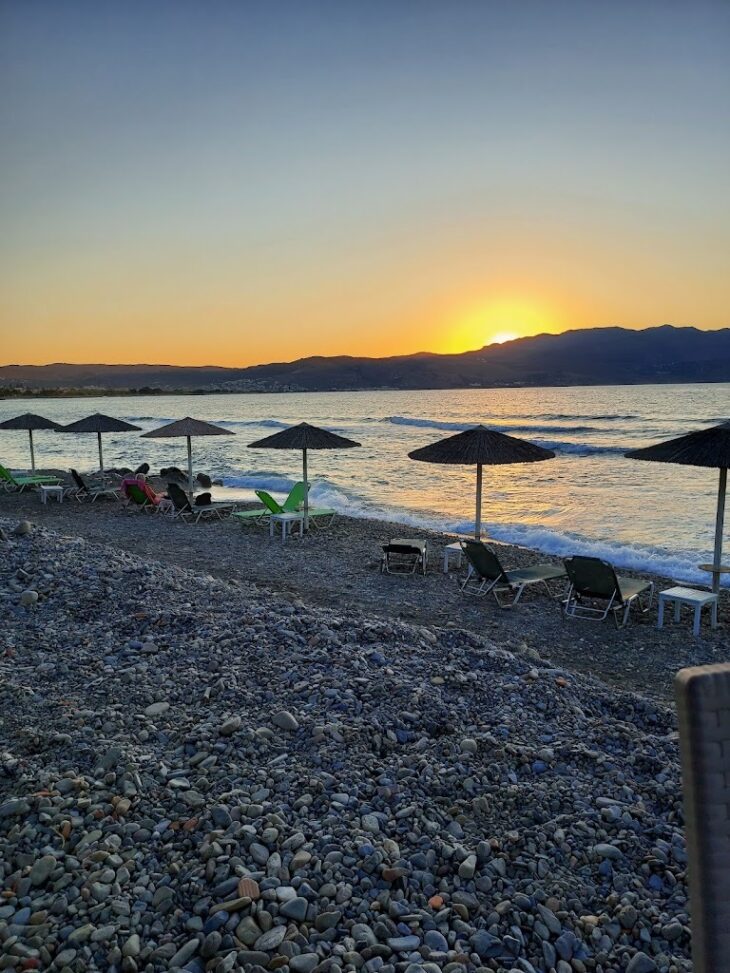 Gerani's Beach
Gerani is a small beach village located right in the middle of Maleme and Platanias, 13 kilometers west of Chania. It is located in a lush valley with olive and citrus trees. Gerani's beach is 2.5 kilometers long and boasts beautiful sand and sparkling water. Many tourist attractions are located near the shore, making it perfect for family vacations. Umbrellas, showers, beach bars, water sports activities, and lifeguards are available. There are some tamarisk trees near the beach that provide shade. If you want to be alone, there are certain places along the shore that are less crowded and unorganized.
Rapaniana Beach
Rapaniana's long beach is 20 kilometers west of Chania and 4 kilometers east of Kolymbari. It is only a small section of the enormous coastline that stretches from Peninsula Rodopos to Chania. The beach, which is sandy and pebbly in sections, is a great option for travelers, especially when the weather is calm). It's immaculate and close to all of the essential tourist attractions. Umbrellas, showers, and a lifeguard tower are available. The protected loggerhead sea turtle breeds in Rapaniana and its neighboring beaches.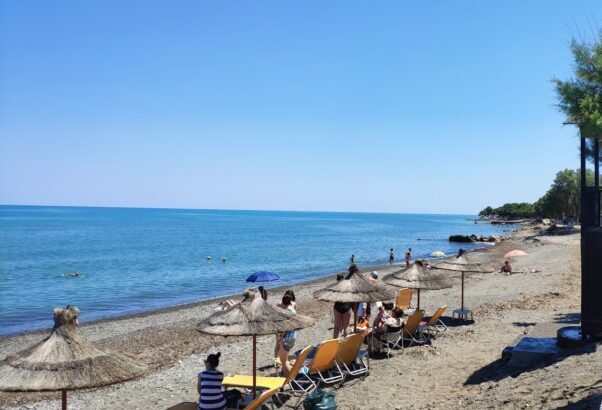 Where to Stay in Tavronitis
You won't have a hard time looking for a place to stay in Tavronitis. Here are some of the best accommodations in the area:
Antilia Apartments
Found right at the heart of the village, Antilia Apartments is a family-run business that offers traditional Cretan hospitality. The apartments are air-conditioned and have a fully equipped kitchen, a private bathroom, and a balcony with views of the mountains and the sea. Guests can also enjoy the sun loungers in the garden. Free WiFi is available in the area.
Address: Tavronitis, Chania, Crete, Greece
Website: https://www.facebook.com/antilia.apartments/
Contact: +302821075773
Melia Artemis Luxury Villa
If you want to stay right at the beach, then Melia Artemis Luxury Villa is the best place for you. The villa is just a few meters from the beach and has a private pool, a sun terrace, and a garden. It is air-conditioned and includes a seating area with a TV, a fully equipped kitchen, and a private bathroom.
Address: beach, Tavronitis 731 00, Greece
Website: https://www.melialuxuryvillas.com/
Contact: +306940636303
Where to Eat in Tavronitis
If you're ever feeling hungry, Tavronitis offers several dining options. Here are some of the best restaurants in the area: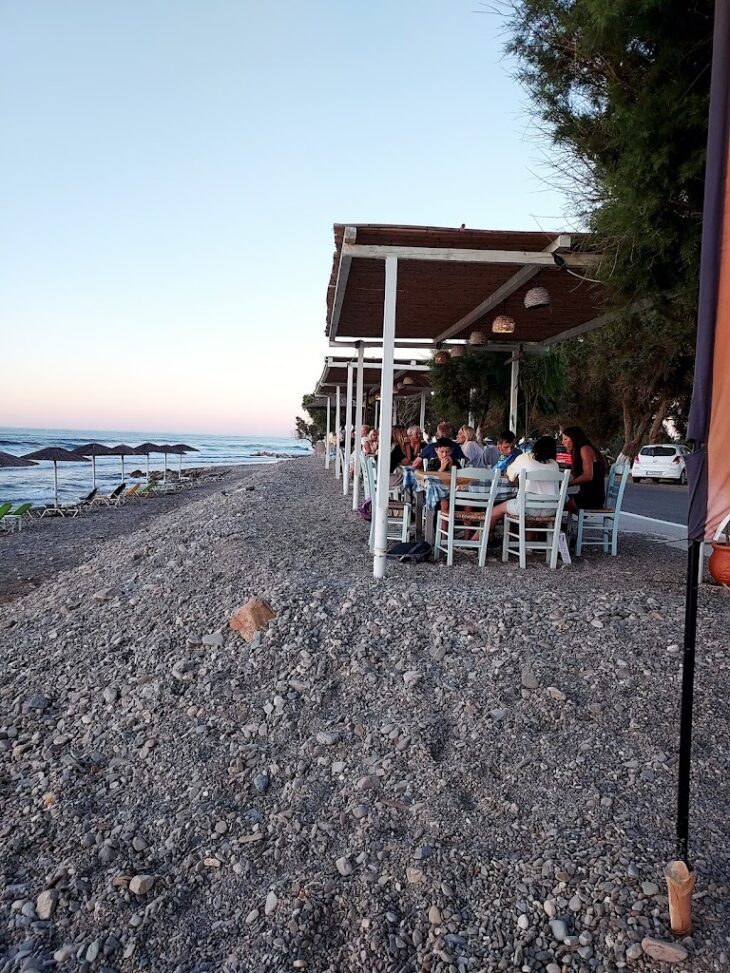 Estia Bar Restaurant
A bar and restaurant found in one, you'll never go wrong with Estia. They have a wide array of drinks and dishes that will surely satisfy your cravings. They also have a beautiful outdoor seating area where you can enjoy the view of the surrounding area.
Address: Tavronitis, Crete 73006 Greece
Website: Facebook page
Contact: +30 2824 023646
Black Lantern
Found in Maleme, not too far from Tavronitis is the family-friendly restaurant, Black Lantern. They serve Greek and international cuisine that will definitely make your mouth water. Their staff is very attentive and the restaurant is always clean.
Address: Maleme, Crete 73014 Greece
Website: http://theblacklantern.weebly.com/
Contact: +30 697 572 8345
The Best Time to Visit Tavronitis
Although you can visit the village all throughout the year, the best time to go would be during the summer (June-September). This is when the weather is perfect for swimming and sunbathing at the beach. Many of the shops and restaurants are also open during this time, too. However, if heavy crowds bother you, it's best to avoid the village during peak season. You may visit during the months of April and May as well.