Found on the northern coast of Crete, Elounda is a small yet fascinating town filled with various tourist spots. From white sand beaches to historic buildings, you can surely spend a relaxing holiday here. However, one challenge you may face when visiting this beautiful town is finding the right place to stay. Several hotels of all sizes, shapes, and budgets are located in Elounda.
You can either choose to stay in a luxury hotel with all the amenities you want or go for something more affordable without sacrificing comfort. Regardless of what you choose, this list of the top 10 best hotels in Elounda will help you find the perfect one for you.
Elounda Heights
Ideal For Adults
One of the best "adult-only" hotels found in the area is none other than Elounda Heights. It is a family-run complex designed to provide its guests with a relaxing and enjoyable stay. Apart from offering comfy rooms, its facilities include a spa, pool, bar, coffee shop, and even a restaurant serving authentic Cretan cuisine. Moreover, the view of the surrounding sea will surely make your stay here even more memorable.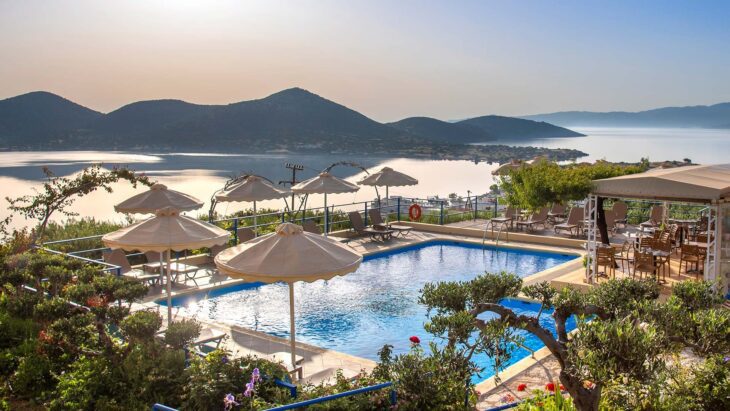 When it comes to the rooms, each unit is painted in sophisticated neutral tones and has a private balcony. Other in-room amenities include an air conditioning system, a TV with satellite channels, a coffee maker, and free Wi-Fi access. Each room is sound-proof too, so you can have quality rest.
The best feature this hotel has to offer adults is its spa. The establishment uses Crete's well-known natural salt clays as well as Cretan oil to offer you a relaxing massage and body treatment.
Address: Emmanouil Pouli, Elounda
Website: https://www.eloundaheights.com/
Contact: +30 261 118 0513
Blue Palace Elounda
Perfect For Couples
For couples looking for a romantic getaway, the Blue Palace Elounda luxury resort is your best bet. A hotel known for its romantic atmosphere, it provides couples with a tranquil experience. Apart from featuring stylish accommodations with balconies overlooking the sea, it also has an excellent spa, a top-rated restaurant, and sparkling infinity pools surrounded by lush gardens. You can have a romantic dinner in their outdoor restaurant while watching the sunset or have a drink inside their serene lounge while talking to your loved one.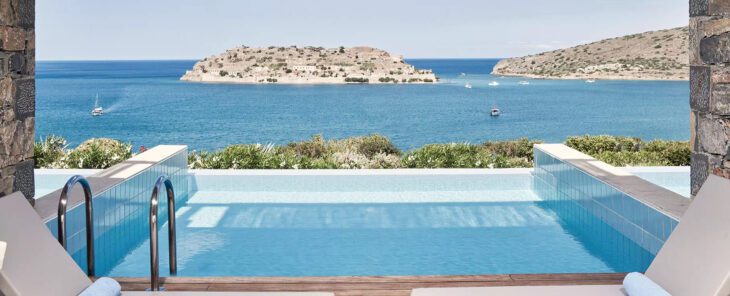 Their rooms are known for their luxurious decorations and bohemian-style furniture. Even if you are staying in a standard unit, you can be sure that it has all the amenities you need to have a comfortable stay. Some of these include air conditioning, TV with satellite channels, minibar, private safe, sofa bed, and free Wi-Fi access. The rooms also have a private balcony perfect for catching a breath of fresh air.
Apart from its excellent location and rooms, you will surely love its white sand beach and crystal clear water. Lie down in one of their tanning beds and feel the Cretan sun's warmth on your body or swim in its turquoise waters. Whatever your choice, you'll undoubtedly love your stay here.
Address: Plaka, Elounda
Website: https://bluepalaceresort.gr/
Contact: +30 2841 065500
Domes of Elounda
Best Choice For Families
Whether you've got toddlers traveling with you or teens that like to explore, you can be sure that they will love your stay at the Domes of Elounda. The resort prides itself on giving its guests a home-like experience without sacrificing any comfort. What's more, it is one of the smartest picks for families who are looking for a complete vacation. They have an adult pool, saltwater pool, heated pool, and even an infinity pool. You'll certainly have a hard time choosing which one to go to. In addition, the surrounding beach and lush gardens are perfect spots for family gatherings.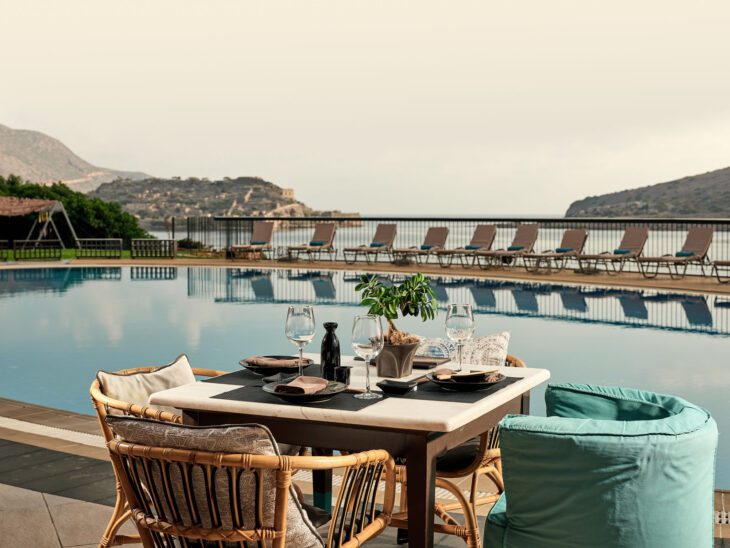 A selection of private, luxury, and luxury villas varying from 85 to 450 square meters can be found in the area. These accommodations come complete with a living room, dining area, fully equipped kitchen, minibar, and spacious bedrooms. Each of their units is beautifully designed with soft tones and rich textures. Aside from the stylish furniture, you can also see their beautifully landscaped gardens and seaview right outside your window.
Address: Tsifliki, Elounda
Website: https://domesresorts.com/domesofelounda/
Contact: +30 2841 043500
Elounda Water Park Residence Hotel
Perfect For Kids
When traveling with kids, finding a good hotel that's comfortable yet safe can be difficult. If this is your concern too, then the Elounda Water Park Residence Hotel might just be what you're looking for. It is situated in one of Crete's most stunning locations. The hotel sits above the hills of Elounda, offering guests a dramatic and spectacular view of the Mirabello gulf and the ancient fortress island of Spinalonga.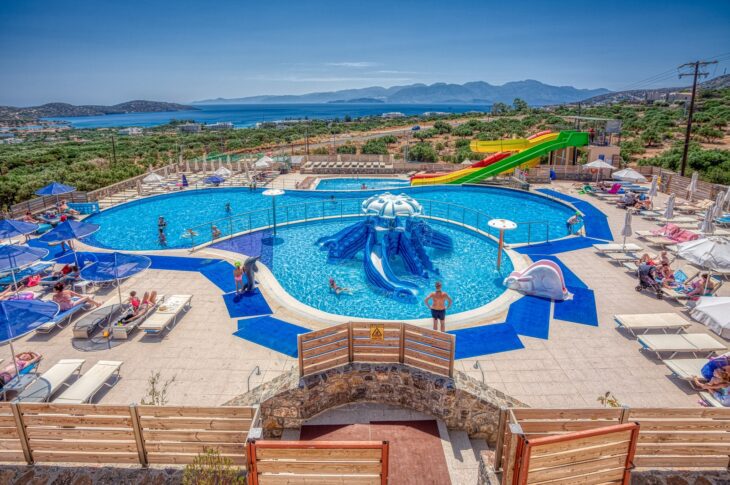 Aside from its stunning location and rooms, it also makes sure to give you a worry-free stay by providing an amazing water park with pools, slides, and a play area for kids. The hotel also offers horseback riding, giving your kids the chance to explore the area in a different way. The hotel also has excellent dining options that are kid-friendly, so you can enjoy delicious meals with your entire family throughout your stay. Their restaurant serves authentic Cretan and international dishes in a luxurious dining experience. A game room, tennis court, spa and bar, and pool also awaits guests.
When it comes to the rooms, each is equipped with high-end amenities with all the comforts you need. Each unit has its own private balcony, allowing you to enjoy the island's fresh air. A seating area and kitchenette is also available in each room. The hotel has a total of 138 rooms and suites all with beautiful views of the surrounding sea and mountains.
Address: Elounda, Crete
Website: https://www.eloundaresidence.gr/
Contact: +30 2841 041823
Elounda Krini Hotel
Best Budget-Friendly Hotel
Even when you're on a budget, you can still find excellent Cretan hotels to meet your needs. The Elounda Krini Hotel is perfect for those who are looking for a clean, comfortable, and affordable place to stay in Elounda. Despite its price, the features this hotel has to offer go beyond what you might expect. Aside from a beautiful view of the mountains and sea, the hotel is equipped with a swimming pool, restaurant and bar, breakfast buffet, and a sun terrace for guests.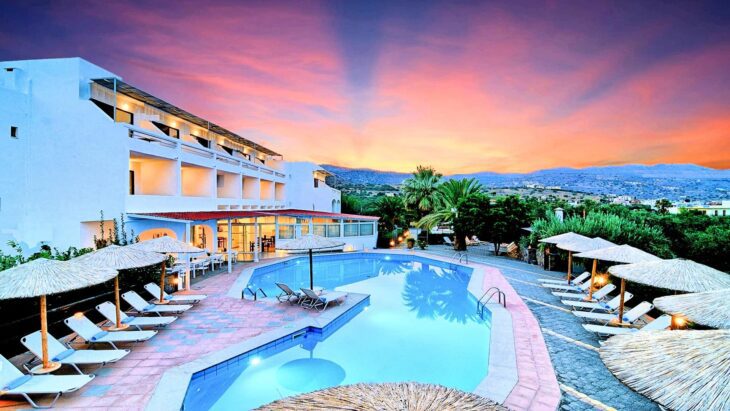 Their units come with an AC system, a flatscreen TV, and free Wi-Fi access. The rooms and bathrooms are spacious and well-lit, ensuring that you'll feel relaxed throughout your stay. Each guest gets to enjoy the scenic views of the surrounding areas from their balcony, too. Plus, the hotel is pet-friendly, so if you're traveling with your four-legged family member, they can also enjoy their stay.
Address: Andreas Papandreou Street, Elounda
Website: https://eloundakrinihotel.com/
Contact: +30 2841 041662
Cayo Exclusive Resort & Spa
Top Choice For a Luxury Break
If you've got more money to spare and a luxury resort is just what you're looking for, then you can't go wrong with the Cayo Exclusive Resort & Spa. It is located in one of the most ideal panoramic sites on Crete, right on top of the charming village of Plaka in Elounda.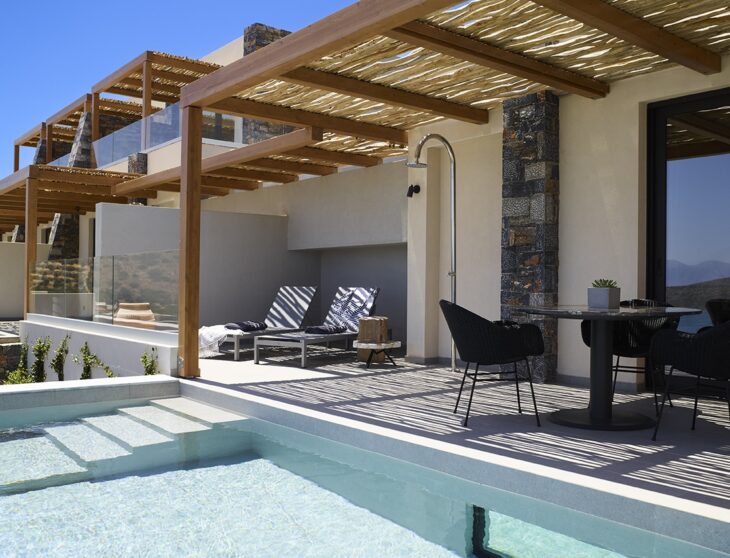 Cayo Exclusive Resort & Spa is a sanctuary where luxury is characterized both by its earth-given splendor and its lavish amenities, giving you views of Spinalonga island and the ever-tranquil Gulf of Elounda.
The hotel is complete with all the amenities you need to make your stay as comfortable as possible. A massage center, a spa area, and outdoor pools are perfect for those who enjoy pampering themselves. If you're looking to work out or experience an exciting activity, then their gym will definitely be a treat for you! They also have a restaurant serving fresh dishes daily so you can taste the flavors of Crete first-hand. If you want to go boating, snorkeling or even canoeing, you may do so too.
As per the room, each unit is designed with the modern traveler in mind. It is equipped with an air-conditioner, a private balcony, and high-speed internet access. Aside from this, the rooms also feature carpeting and wooden furniture for a touch of Cretan design that you'll love. A kitchenette, dining area, and a flat-screen TV is also available, so you'll relish in the comforts of your room.
Address: Plaka, Elounda, Crete
Website: https://www.cayoresort.com/
Contact: +30 2841 044700
Elounda Beach Hotel & Villas
Best For History Buffs
If you're someone who's interested in staying in hotels with a good history, then staying in Elounda's first and oldest hotel would be a treat for you. Despite the age, this hotel has been renovated to meet the needs of modern travelers and it has withstood the test of time.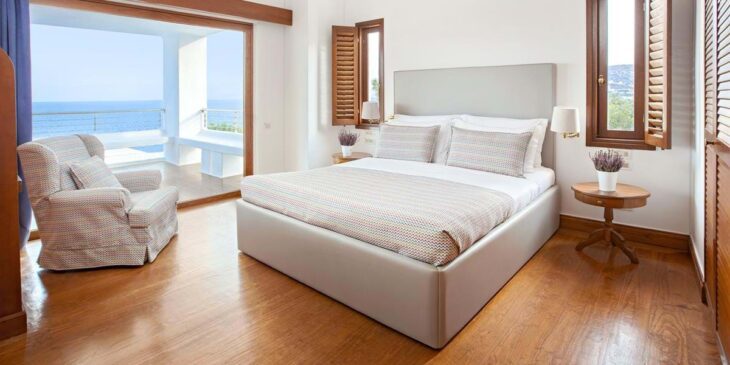 Aside from its rich history, Elounda Beach Hotel is also conveniently located in a serene area near one of Crete's most beautiful beaches: Elounda. A short distance away from the hotel, you can find White Island and Spinalonga, which are perfect for sightseeing and taking photos. You can even go diving or snorkeling to experience what lies beneath the surface. Amenities such as a tennis court, restaurant, bar, kids club, and spa are also available.
When it comes to their rooms, comfort is the name of the game. Every room is equipped with an air-conditioner, a private balcony, and free Wi-Fi connection. Plus, the bathrooms and bedrooms are spacious, making your stay a relaxing one.
Address: Elounda
Website: https://www.eloundabeach.gr/
Contact: +30 2841 063000
Elounda Bay Palace Hotel
Ideal For Pets
Although many hotels are pet-friendly, Elounda Bay Palace is by far the most outstanding amongst them all. This hotel is one of the largest hotels in Elounda, giving you and your pet more than enough space to move about. With a tennis court, lounge, poolside bar, restaurant, and spa, you're certain to have a luxurious and fun stay. If you want to take a dip, then you'll have the option to do so in their outdoor pools. You can also take your pet by the beach and watch the gorgeous sunset.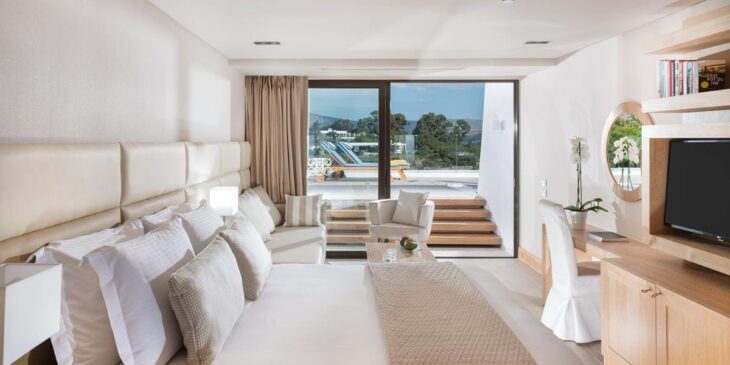 If you stay in one of the hotel's rooms, rest assured that your needs are met. Each room is equipped with air conditioning, flatscreen TVs, desks, a private balcony, and free Wi-Fi. When it comes to design, Elounda Bay Palace Hotel has taken its cues from Cretan architecture and blended it with high-end furniture and decor that many modern travelers will love. In the end, you'll find yourself in a truly luxurious hotel that you and your pet will enjoy staying at.
Address: Elounda
Website: https://www.eloundabay.gr/
Contact: +30 2841 067000