Margarites is known as the village of "Pithari" (greek oil jar) artists, since the village itself have a tradition in pottery. Wandering the streets in Margarites, you see big pots of clay out in the yards, next to the entrance doors and a few tourists entering the potteries.
Life in Margarites is simple and quiet. The yards are full of flowers and the Raki is frozen waiting for our break.
Margarites are located just 27 kilometers away from Rethymno, at an altitude of 300 metres, at the northern side of Crete's highest mountain, Psiloritis.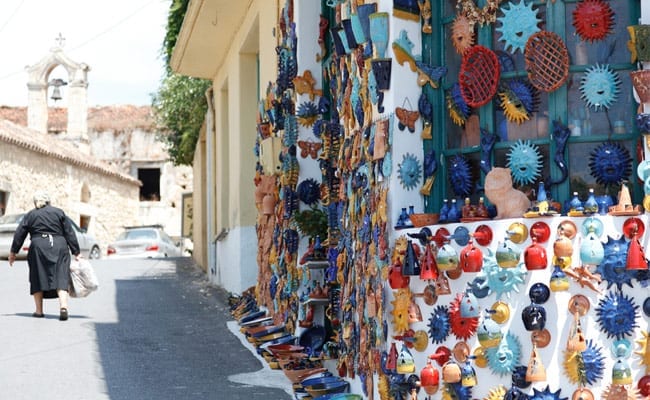 The backdrop of the picturesque village is full of ancient monasteries, hidden paths, lonely chapels hidden in caves, small canyons and a fertile valley which surrounds the village.
Where to stay in Margarites
Kouriton House
With great respect to Cretan tradition, the passionate owner transformed this traditional house of the 18th century to a guesthouse. Staying in this guesthouse, will bring you closer to the authentic Cretan life, culture and philosophy.
The rooms are named after each one of Kourites name and are decorated with handmade Cretan furniture with dried flowers, plus small artefacts and pottery.
⚐ Tzanakiana, Margarites, Rethymno, 74100, Crete, ✆ Tel: 0030 28310 55828
Website: kouritonhouse.gr
Velanidia (Oak)
Quiet stay and home-like feeling in these comfortable rooms, some of which have a balcony overlooking the courtyard with gorgeous flowers and some other overlook to the gorge that crosses the village and Ancient Eleftherna. Great advantage is the co-hosted taverna with authentic Cretan cuisine that offers plates such us local slow-roasted lamb in the oven, fava, dolmades, baked bread on the wooden oven and local cheese and vegetables.
⚐ Margarites, Rethymno, 74100, Crete ✆ Tel: 0030 28430 92529
Website: belanidiahotel.gr
Where to eat in Margarites
Mantalos
Chill under the tress with a view of the nearby sea. You can taste dishes from their homemade Cretan cuisine with specialties of red-sauced goat , stuffed courgette dolma, and rustic cock.
⚐ Margarites, Rethymno, 74100, Crete, ✆ Tel: (+30) 28340 92294, ~ €12 per person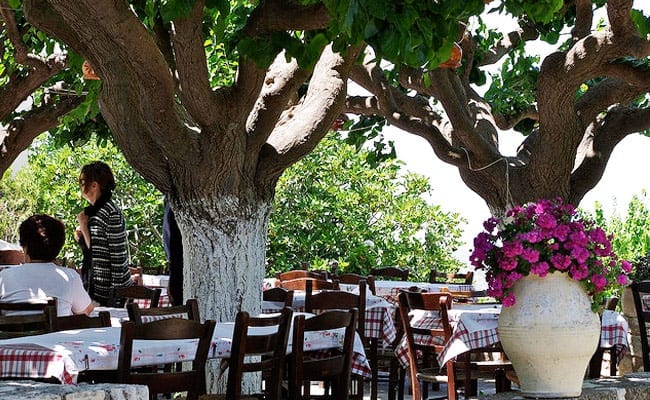 Cafe Stafylakis Manolis
You can enjoy the atmosphere among old portraits, taste rabbits and chickens from their own farm. Also, you should try the lemon stew and delicious cod with spinach. This cafe works since 1936 and is a must in town.
⚐ Margarites, Rethymno, 74100, Crete, ✆ Tel: (+30) 28340 92267, ~ €10 per person