One of the biggest attractions the island of Crete has for tourists is its beaches. While some beaches are ideal for those people who love to party, Maridaki beach is the perfect choice for those tourists who simply want to relax.
Where Is Maridaki Beach
The beautiful beach of Maridaki is situated along the southern coast of Crete. It is at a distance of 65 km from Heraklion, the capital of Crete, making it 68 km away from Heraklion airport. The closest town, Tsoutsouras, is only 2.5 km toward the east. However, there is no direct route connecting the two communities besides a footpath.
Things To Do In & Near Maridaki Beach
When you are visiting Maridaki beach, you can choose between several activities based on your preferences. One of the most famous things to do while you are in Maridaki is to visit the village's springs and take pleasure in the refreshing water. The church of Saint Panteleimon, which was once devoted to the Virgin Mary and St. Mamas, the shepherds' patron saint, is nearby. This too can be a fascinating visit for tourists who enjoy historical sights.
If you have a car, you should go to Saint Nikitas (2 km from Maridaki), where you can find a monastery of the same name. There, you can also enjoy your time at the amazing Agios Nikitas beach, as well as Saint Anthony's gorgeous palm grove and the church of the Holy Cross.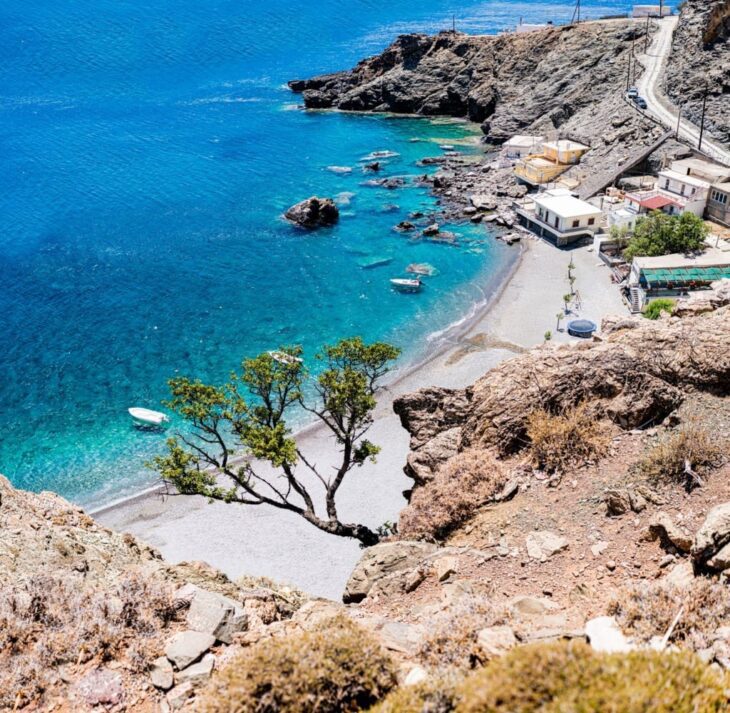 You can also decide to take a long and memorable walk from Maridaki beach to Tsoutsouras. This is a well-constructed route that passes through spectacular scenery with wild carob trees, caves, dry grassland, and breathtaking sea views.
Other Beaches Near Maridaki Beach
Maridaki beach has its own charm, but that does not mean that there aren't other beautiful beaches nearby. If you visit Maridaki beach, do experience the following beaches close by.
Kaminaki Beach
One of the beaches close to Maridaki beach is the beach of Kaminaki, which is located at the southern edge of the Asterousia Mountains, 58 km south of Heraklion. With impenetrable gorges, barren rocks, sheer cliffs, and isolated beaches that can only be reached by boat, the surrounding wild mountains create a scene that is uniquely Cretan. It also gives the unique experience of being at the mouth of the untamed Perivoliano Gorge, also known as Gerontzou. The pebbly Kaminaki beach is perfect for those visitors who enjoy fishing. Apart from this, this beach should be on your list if you do not like crowds and want to enjoy your vacation in serenity.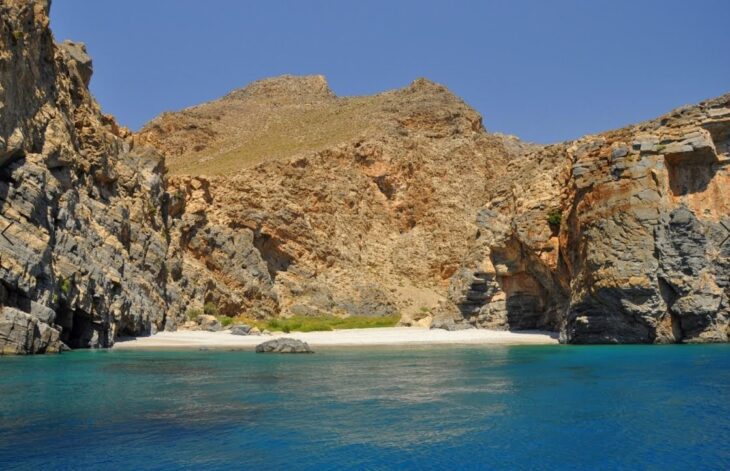 Tris Ekklisies
Tris Ekklisies is a charming coastal community with a sand and pebble beach that is situated in the Heraklion area on the southern coast. It is just 60 km from Heraklion Town and 59 km from Heraklion International Airport. This will work for you if you're seeking serene surroundings and a family-friendly beach. This beach is shallow and safe, making it suitable for swimmers of any age here. There aren't many big, tall buildings or infrastructural development on this beach. Here, you may completely unwind in a little Greek town, away from the hectic pace of contemporary life. If you want to know more about this beach, read our detailed post about Tris Ekklisies beach.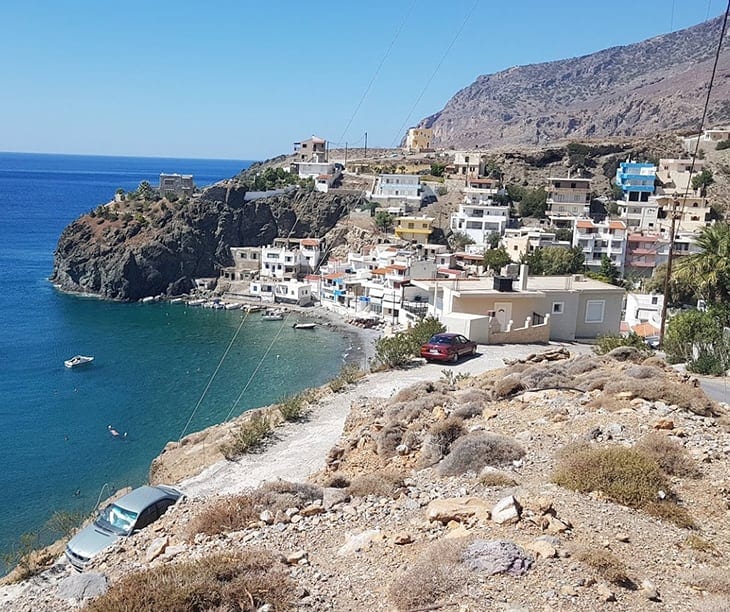 Tsoutsouros
At the end of the massive Gorge of Mindris, Tsoutsouras or Tsoutsouros, which derives from the Venetian term Zuzzurro, is situated 63 km south of Heraklion. It was established in the location of the historic city of Inatos, which served as Priansos' harbor. Although the beach has been developed and structured as a tourist attraction, it is still a place to go for peaceful vacations.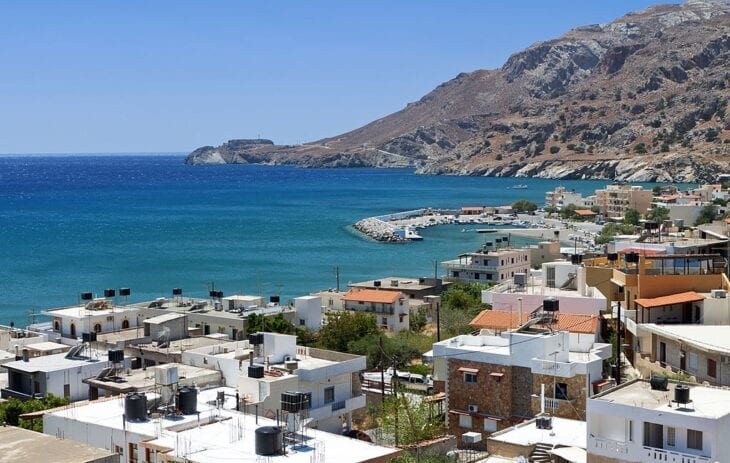 The beach has a few tamarisk trees nearby and is somewhat structured with umbrellas. It is perfect for family vacations since it has all the amenities needed for lodging, entertainment, and dining within walking distance. You can take a stroll to the sandhills at the beach's eastern end to enjoy your vacation in privacy. Many Cretans have long believed that swimming in Tsoutsouras is therapeutic and curative because of the high concentration of salt and iodine, which aids in the recovery of musculoskeletal and orthopedic issues.
Listis Beach
Listis Beach lies on the shores of the Libyan Sea, on the south coast of Crete. This pristine and untouched part of the island is truly a remarkable place to visit. It is a little haven of shallow waters and sand for wonderful swimming. The geology is enchanting; there are rock formations both on shore and in the sea to swim around. Listis beach is easy to reach from Heraklion. There is a car rental directly at the airport, so you can go directly from plane, to car, and then straight on to the roadway. If you prefer to reach Listis beach by public transportation, you can take the KTEL public bus service.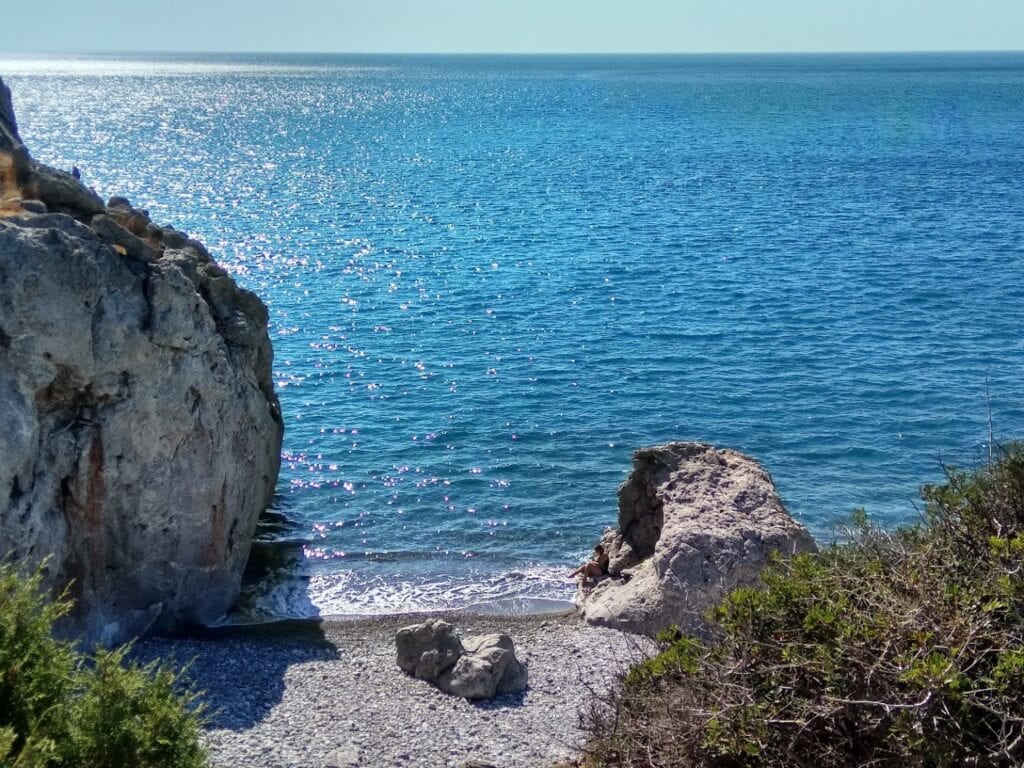 How To Get To Maridaki Beach
Traveling around Crete is easy and convenient where tourists have different options to choose from when it comes to transport. If you plan on visiting Maridaki beach, you can get there by bus, car, or taxi.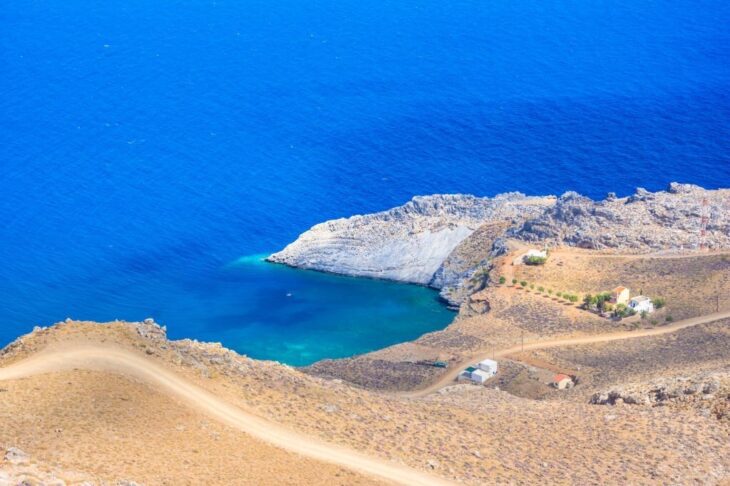 By Bus
One of the most common ways to get around Crete is by bus since Crete has a well-developed public bus system. Although this may help you save some money, it comes with its inconveniences. You cannot reach Maridaki from Heraklion directly by bus. Instead, you would have to take a bus to Kato Viannos, and then take a taxi to Maridaki beach. It will take around 2 hours and 10 minutes to get there, costing you approximately €30 to €40. But if you are going to eventually have to take a taxi, why go through all this trouble?
By Car
Why not save yourself from the hassles of public transport and hire a car to reach Maridaki beach? Travel at your own convenience without having to plan your visit based on bus schedules, all by simply traveling in your own car or renting one. This way, you would not have to worry about getting yourself a taxi at Kato Viannos and travel without having to compromise your privacy. In addition to this, you can also stop at different sites on the way. Book a Crete car hire and make the most of your Crete vacation.
By Taxi
If you want to completely unwind during your vacation, then the hassles of a bus and driving yourself may not be the best idea. Hire a taxi to get to Maridaki beach from Heraklion so that you can sit back and relax during your trip. You may have to pay a few extra money, but the ease that comes along with it makes it worthwhile.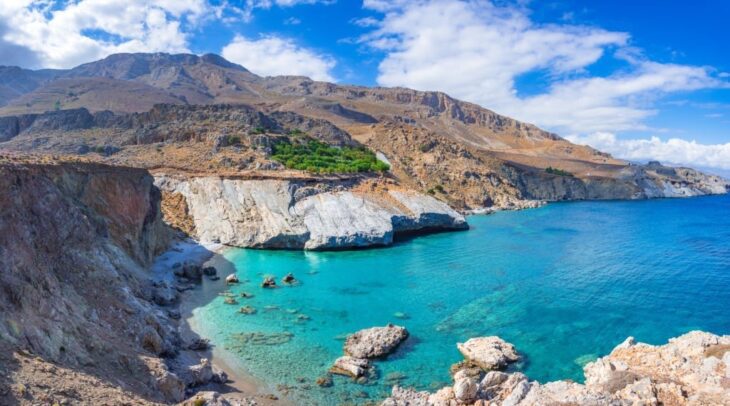 Best Time To Visit Maridaki Beach
The best time to visit Maridaki beach is from June to August, the reason being the weather conditions. Rain is very rare and the warm temperatures make the beach even more attractive. However, for this same reason, this beach is normally more crowded than usual during these months. If you want a more peaceful experience, you can also consider visiting from April to May, or September to October.