As you drive throughout the lush Cretan countryside, one of the most familiar scenes will be the groves of olive trees, their leaves silvery in the breeze. Look more closely, and you'll often notice bundles of black mesh netting between the trees. Later in the season, by September perhaps, the mesh will be unrolled, and spread out over the landscape like an enormous carpet under the olive trees. This is in preparation for the olive harvest in Crete.
How Are Olives Harvested in Crete?
Of all the agricultural events that space the yearly calendar, the olive harvest is one of the most labor intensive and yet warmly anticipated. Many people – including many citizens of the town and cities of Crete, and for that matter as far away as Athens or Thessaloniki – own some olive trees. This is a harvest that touches many people personally, whether or not they actively take part. It's also a way for people to keep a connection to their family lands.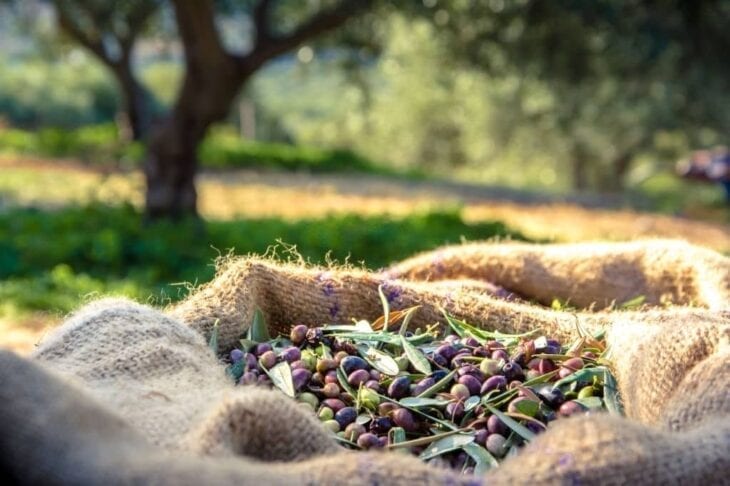 Which, though, they very often do. Many people take a holiday from their jobs in towns or cities to participate in their family's olive harvest. The more hands, the lighter the work. And it is the most satisfying and invigorating work, under the trees.
When the olives are judged to be ripe, and the nets spread over the ground to catch them, the pickers take to the groves. While olives can of course be picked by hand, it's a lot of work. Most commonly, the ripe olives are raked from the branches, usually with a hand rake. For larger scale operations, there are also mechanized rakes, as well as other harvesting equipment, such as mechanical harvesters and shaker harvesters. But most olives in Crete are harvested by hand, using the hand rakes to free them from the branches to fall onto the nets. From here, they are gathered and placed in bins. While gathering the olives, the harvesters try to filter out as many leaves and bits of stem as possible.
It's sociable work, and in many cases even festive – although it's hard work, the olive harvest even often serves as a kind of family reunion.
How Do You Process Olives into Olive Oil?
The olives are created and taken to a communal press. Most communities have a press nearby. Of course, it's very busy during the season, and producers often make an appointment. It's key to press the olives as soon as possible after they're picked.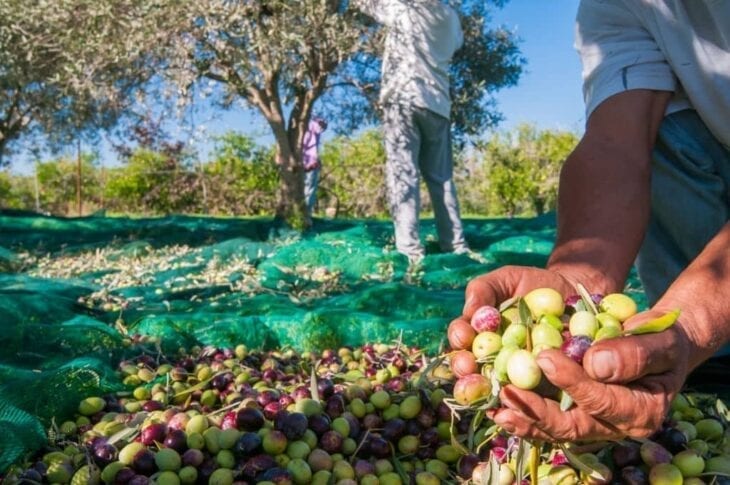 The olives are first washed and then picked over to remove any leaves. Then the olives are ground into a pulp with a grinding stone. Then the resulting pulp is pressed, to separate out the solids. The resulting liquid is olive juice – a combination of water and oil. The oil is then separated out, usually via a centrifuge.
This is how extra virgin olive oil is made. Inferior grade oils are made with heat extraction or even chemical extraction. But for families in Crete, all olive oil is extra-virgin olive oil.
The rich scent of the olives being pressed fills the air in the fall and early winter – a delicious smell.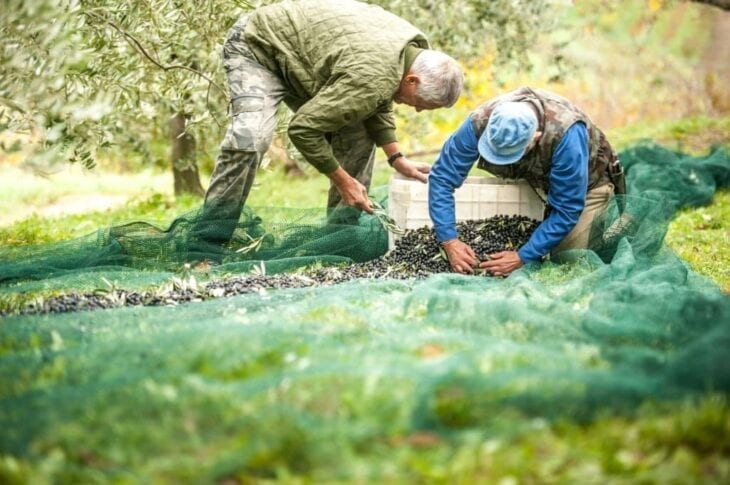 When Does the Olive Harvest in Crete Happen?
The Olive harvesting season is a fairly long one. It begins in late October, and can continue through December, and even into January. This way, each olive has the opportunity to reach its peak of ripeness. Also, there are so many olives in Crete, it takes time to process them all.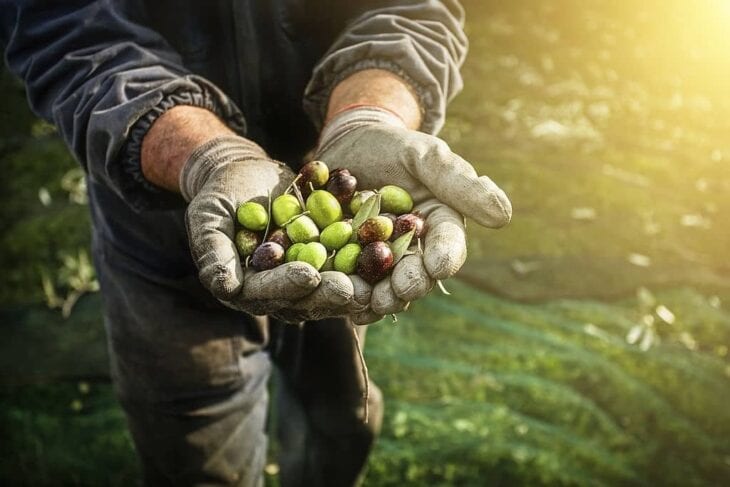 How Can One Join in the Olive Harvesting Process?
As it sounds, olive harvesting is a lot of work, and extra hands are always welcome. If you happen to be in Crete during olive season, and spend some time in rural villages, you might let your interest be known. If you're coming from abroad, you can do a little research – there are companies and farms that offer olive harvesting vacations. These are usually complete experiences. They involve a lot of satisfying work under the Cretan sun, and plenty of camaraderie. But there is also a lot to learn. There are many related activities included, such as having an olive oil tasting, cooking with olive oil and fresh local produce, and making olive oil soap. One can also learn more about the agriculture of Crete, and visits to other artisanal food producers can be arranged. The close connection that the people of Crete have to the land is inspiring, and their honest and delicious cuisine expresses it beautifully.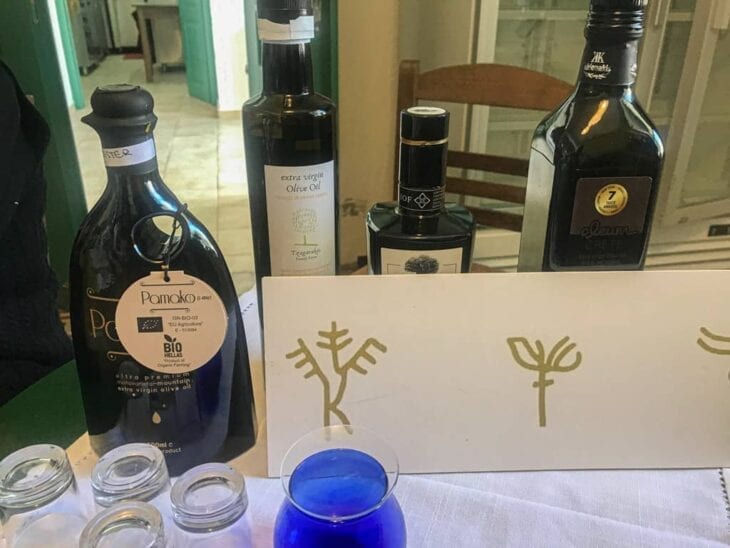 The Cretan Gastronomy Center in Argyroupoli, in the Rethymnon regional unit, offers complete educational experiences. Hand Picked Greece is an agro-tourism specialist that provides specifically curated, hands-on experiences around the olive harvest.
Olive oil tastings are very interesting, and epicures should try one if they have the opportunity. High quality extra virgin olive oil is extremely complex and nuanced. Freshly-pressed oils can often have a bite to them – peppery and almost spicy, and with a hit of acidity. There is a reason that country bread and a bowl of oil – the humblest of repasts – can be so deeply satisfying.
The Oldest Olive Tree in Crete
Olive trees are truly things of beauty. And, possibly, of wisdom. These are incredibly long-lived trees. Crete is blessed with some 30 million of them.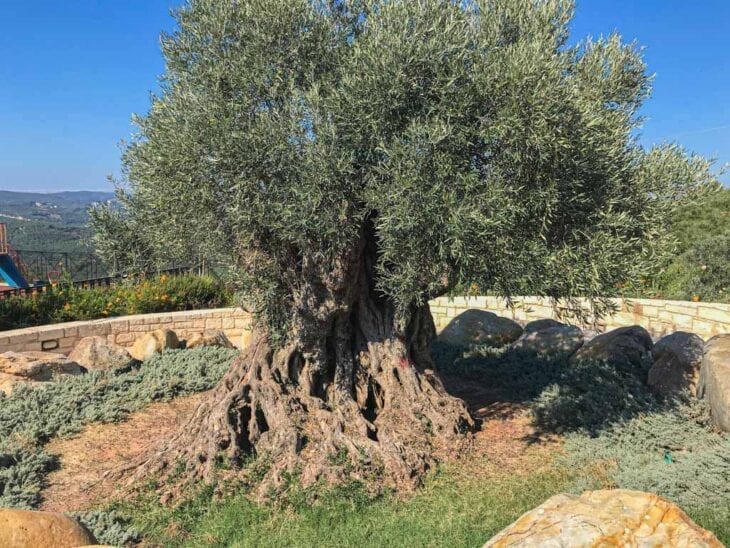 It's easy to tell their relative age. Although they gain no height after reaching maturity, their trunks continue to thicken. Older trees have fat, twisted trunks of great character. Sometimes they grow so large that they split, while continuing to produce olives. Some olive oil experts feel that mature trees produce tasty oil, with more nuance and a mature flavor profile.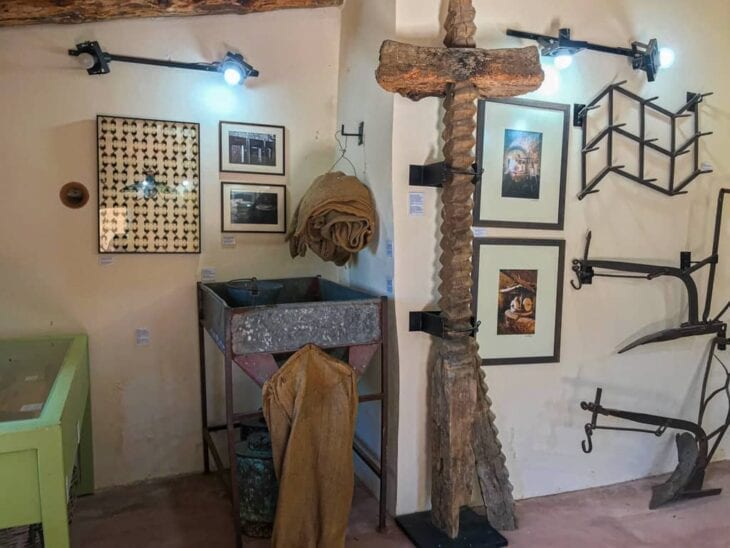 It is not unusual throughout Greece to find trees over a millennium old. But Crete has a very special tree, in Ano Vouves, a village near Kolymvari in the Chania Region. The precise age of this magnificent tree isn't known. Tree rings suggest it is at least 2000 years old, while the university of Crete estimates about twice that – 4,000 years.
The trunk is enormous – over 4 and a half meters in diameter, and about 12 and a half meters in circumference. It has been declared a protected natural monument.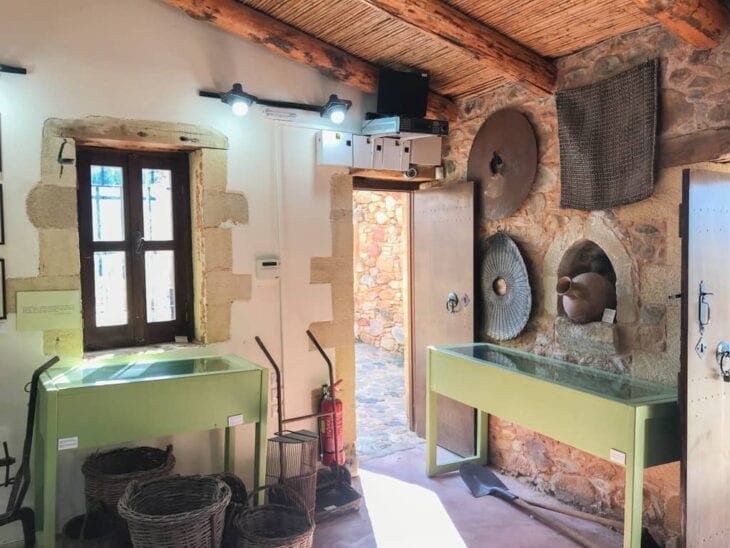 It still produces olives – and it produces honors too: wreaths made from this tree crowned the victors of the 2004 Olympic games in Athens, and the 2008 games in Beijing.
There is a museum near the famous olive tree of Vouves, which displays traditional tools. You can learn about the history and practice of olive cultivation.
The Olive tree of Vouves is truly a majestic presence, and well worth a beautiful drive to see.