If you're looking for a perfect beach vacation that offers you both serenity and basic tourist facilities, then Ammoudi beach is the place to be. This pebbly beach and its rock structures are a sight to behold for any tourist.
To get to the beach, you have to travel on a rough dirt road, and while the ride can be bumpy, it is all worth it once you lay your eyes on the beautiful beach with crystal-clear waters. The seabed shows many beautiful formations, and the beach is full of caves that offer shade to tourists during the hot summer days. It is alternatively called Sfakiano Ammoudi, due to the beach proximity to Sfakia village.
Where is Ammoudi Beach?
This small and quaint beach is located 75 kilometres from Chania and 1.5 kilometres from Chora Sfakion. This area is famous for its several pebble beaches adjacent to each other. There are a number of transportation options that can get you to Ammoudi beach. If you are staying in Chora Sfakion, you can easily walk to Ammoudi beach while enjoying the scenery.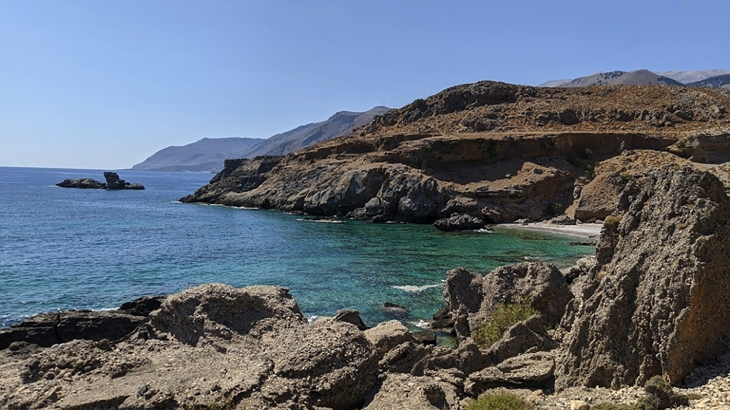 Things to do in & near Ammoudi Beach
Visiting the south coast of Crete opens the door to several activities you can partake in. Not just on the beach but the area around it as well. The area has everything whether you are keen on hiking or visiting religious places.
Visit the beach and Church of Saint Charalambos
A short distance away from the beach of Ammoudi is the Church of Saint Charalambos, which is located only 200m away. Besides giving you an insight into the island's history, this historic church can also serve as a magnificent view for tourists, especially when it is in full bloom. Agios Charalambos beach is also located on the south coast of Crete. It is a small beach with crystal clear waters and white sand. The beach is surrounded by a small cove and a few rocks, making it a great spot for swimming and snorkelling.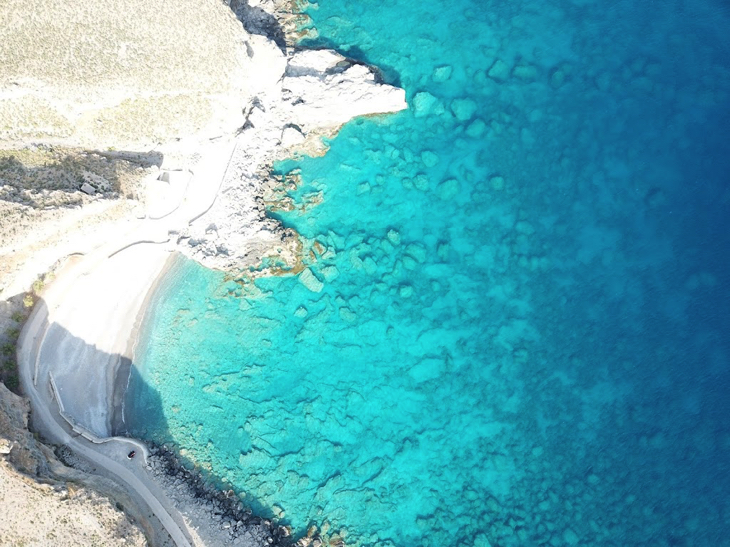 Hike Kavi Gorge
The Kavi Gorge can be found by heading north for 2.4 km. This will bring you to the start of the Kavi Gorge. Hikers will love this place as it is a great place for a nice peaceful walk and to explore the rest of the area on foot. From the mountain village of Anopoli you can start walking on the rural-mountain road leading to the White Mountains, while reaching an altitude of 2000 m near their highest summit. Approximately one hour and a half later, a small ramification leads to the Byzantine chapel of the Rood, which is adorned with stunning murals. Taking a walk up to the exit of the gorge, where there is an asphalt road leading from Chora Sfakion to Anopoli, will take you approximately three hours. Approximately a few meters down the hill is a very clean beach called Ilingas. Here you can swim in the Lybian Sea, have a delicious meal, and stay overnight in a nearby complex if you wish.
Fokia Cave (Cave of the Seal)
It is probably the Cave of the Seal that is the most impressive of all the geological formations in the area. Located to the west of Sfakiano Ammoudi, it is a cave that creates a 'beach' out of the ground at its deepest point and has another exit from the sea at the bottom.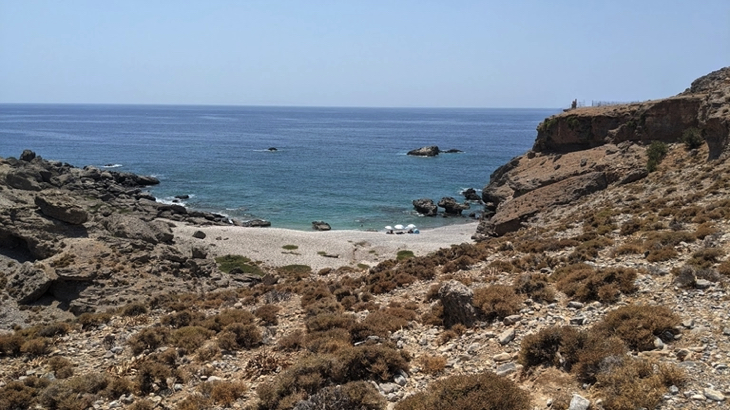 Go Snorkelling
If you just want to stay at the beach, there are a number of activities there as well. Ammoudi beach is ideal for snorkelling and spear-fishing. If you don't want to challenge yourself, then the rock shade from the caves can be a great place for you to spend the day and enjoy the serene tranquillity of Ammoudi beach.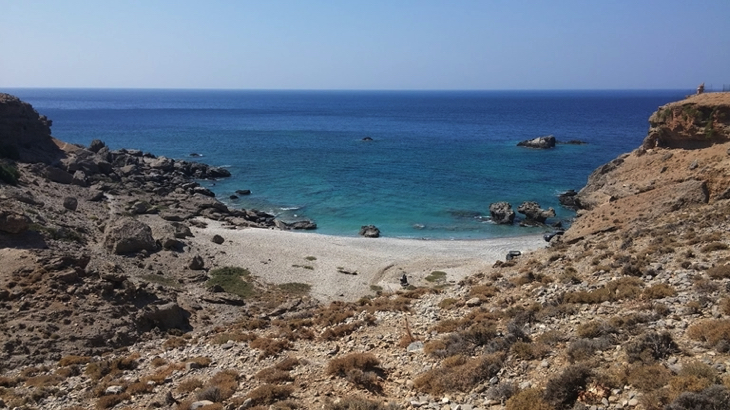 How to get to Ammoudi Beach?
If you are staying in Chora Sfakion, you can easily take a small walk to the beach. Here are the top 3 ways we suggest you can use to get to the beach.
Car Rental
Renting a car is by far one of the best ways to get around in Crete. Rent a car with Rental Center Crete and explore the entire island. This will not only allow you the flexibility to travel on your own time but also visit taverns and other attractions along the way on your trip to Ammoudi beach.
Taxi
The second-best option you can go for is calling a taxi. At the same time, this may be slightly more expensive than riding a bus. You'll have more time flexibility, and tourists can avoid overcrowded buses, especially during the high season.
By Bus
Taking the bus to Ammoudi beach can get a bit tiring, and the journey will depend on the city you are travelling from. If you plan on taking a bus from Heraklion, there is no bus route that will take you there directly. Instead, you will have to take a bus from the main terminal in Heraklion to Rethymno, on the KTEL Irakleiou – Lasithiou S.A bus or Dramia, on the KTEL Chanion-Rethymnou S.A bus. Both of these bus rides will cost you anything between €7 to €14. From there, you will have to take a taxi to get to Ammoudi beach.
On the other hand, if you are travelling to Ammoudi from Chania, then you're in luck. The KTEL Chanion-Rethymnou S.A bus takes you directly to Chora Sfakion. This bus runs 4 times a day, costs €5 to €8, and the journey takes around 1 hour and 20 minutes.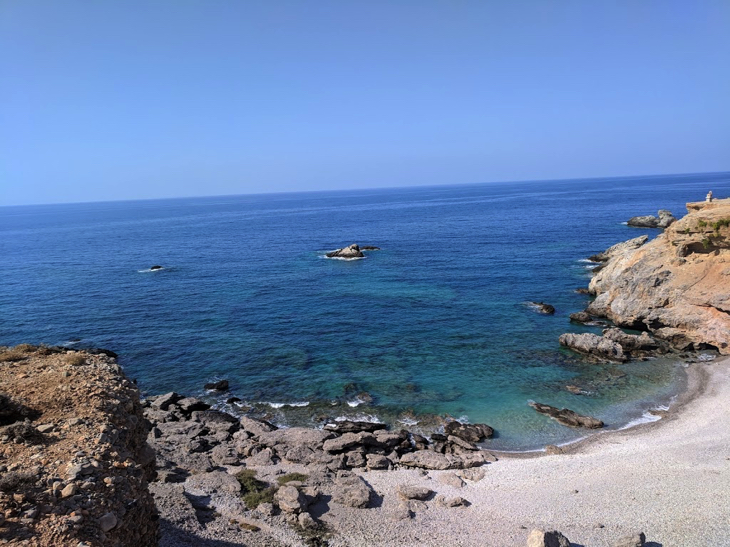 Best time to visit Sfakiano Ammoudi Beach
It only makes sense to visit a beach town during the summer, which is why the best time to visit Ammoudi beach is from May to September. The sun will be shining, the weather will be pleasant, and the water will be warm. However, some people can find the high-season crowd a bit overwhelming, especially if they prefer peace and tranquillity on their vacation. If you are one of them, we recommend that you visit Ammoudi beach either in April or October. The weather will still be fine for having a great time at the beach, and you won't have to worry about peak-season crowds.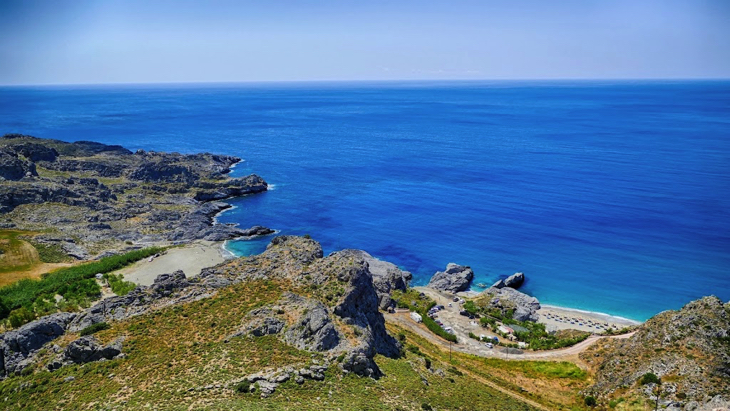 Other beaches near Ammoudi Beach
Filaki Beach
Located 3 kilometres away from Chora Sfakion, this is the only official, nudist-friendly beach on the island of Crete. Filaki beach is a sight to behold, with aesthetically appealing water and jaw-dropping rock formations on the seabed. Furthermore, the area is well-built, with all the infrastructure you need to enjoy your time there. The beach offers parking lots, water closets, taverns, and bars for the entertainment of tourists.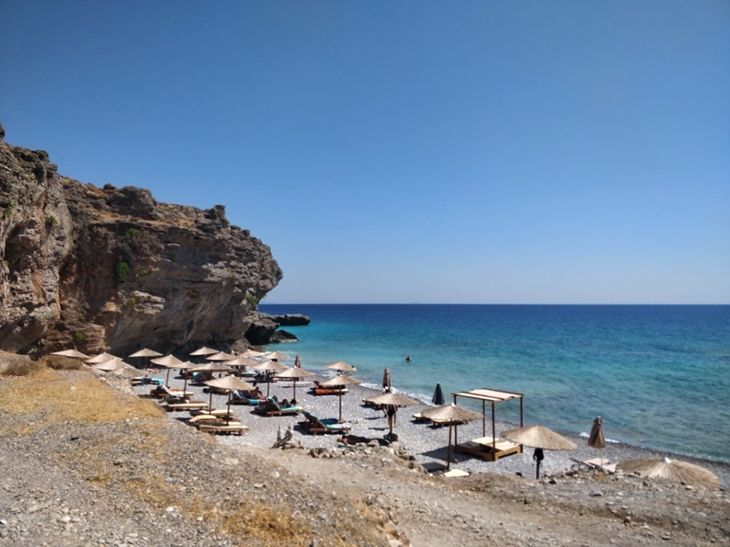 Glyka Nera Beach
Another beach that can be a great addition to your itinerary is Glyka Nera beach, located 4.6 kilometres from Filaki Beach. This beach is one of the most beautiful out of all the ones in the area due to the nature around it. Glyka Nera, better known as "Sweet Water" beach, can be found between Sfakion and Loutro. You can access this beach on foot or via boat. It offers a romantic ambiance making it the perfect spot for tourists visiting Crete for their honeymoon. Surrounded by high cliffs and a quaint little tavern, you can see yourself spending several hours on the beach and taking in the relaxation.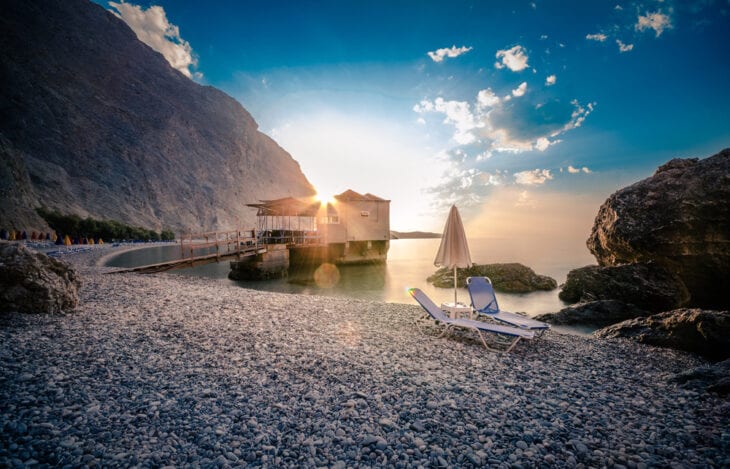 Ilingas Beach
Located at the end of the Kavi Gorge, the Ilingas beach can be found 1 KM west of Sfakia village. With gorgeous turquoise water and a gravel beach, the Ilingas beach makes for a great place to visit on your holiday. Ilingas is a nudism-friendly beach located near a nudist resort. The tavern at Ilingas beach can serve amazing local drinks. Finally, the beach has scattered caves that can serve as a great source of shade and allow one to enjoy the cold sea breeze.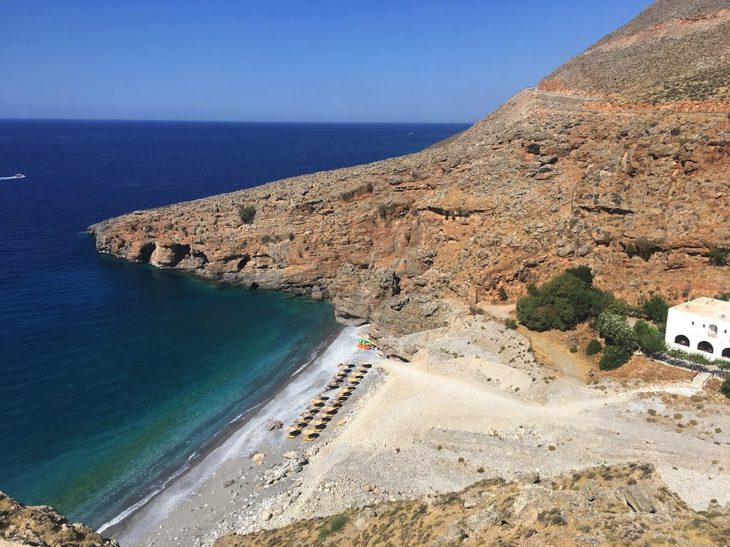 Chora Sfakion
Chora Sfakion, also known as Sfakia, is a small town located on the south coast of Chania. It has heavenly waters, unspoiled villages, and breathtaking views that can be found here. Secluded beaches provide tourists with a relaxing experience like no other. It's near the end of Sfakiano Gorge on the south coast. The main beach is Vrissi, which has gravel and pebbles that add to its beauty.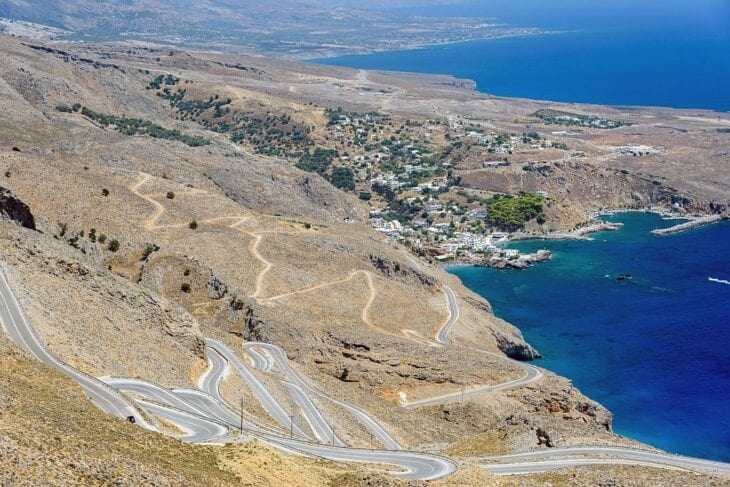 Frangokastello beach
A beach named after a stunning seaside Venetian castle is more than a vacation spot. You'll find Fragkokastello beach 13km east of Chora Sfakion and 80km southeast of Chania. With its fine golden sand and less crowded surroundings, this beach offers a calming aura. Perhaps it's because it's so far from the airports and mass tourism on the north coast. It has three small beaches. One is 600m long on the western side, another is below the Venetian fortress. Orthi Ammos, which is about 700m long, is the third beach to the east. You might only encounter sandblasting here because the katabatic winds from the north transport sand.

Marmara Beach
Marmara beach is on the southern coast of Crete, Greece. Heraklion, the island's capital, is 167 km away, and Chania is 94 km away. There is one tavern in the area; otherwise, it's mostly just locals and tourists. You can have a relaxing time on Marmara beach and take in the gorgeous view of the coastline. Located on the edge of a cliff, this beach is perfect for taking a dip in the clear blue water or relaxing in the sun. There are no roads leading into or out of Marmara beach, and you can only get there by boat or on foot.