If you're looking for a breathtaking beach to add to your bucket list, look no further than Koudoumas Beach on the island of Crete. With its azure waters and dramatic cliffs, this beach will take your breath away. So pack your sunscreen and swimsuit and prepare to relax on one of the most beautiful beaches in Crete! Don't forget to bring your camera – the views are Instagram-worthy!
Where is Koudoumas Beach?
Koudoumas beach is a hidden gem. It is located 74 km south of Heraklion, on the west side of Cape Martelos, and the southeast peak (the highest) in the Asterousia Mountains. To get there, you must drive a long dirt road starting from village Sternes which descends 1000 metres before reaching sea level at its end!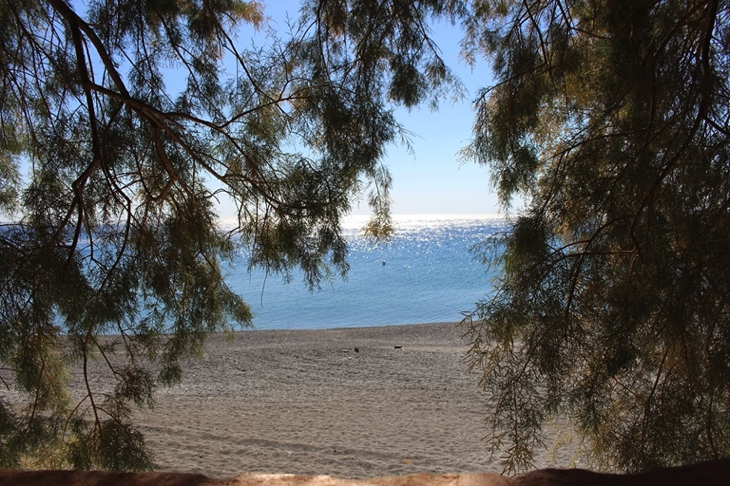 What to see in & near Koudoumas Beach
Koudoumas beach is a serene and picturesque beach that's perfect for relaxing. If you're into nudism, make sure to note that it isn't allowed here. Besides the famous monastery, nothing exists within several kilometres, so pack everything essential! You can find shade in one direction along the coast while caves provide shelter from sunburn on another side, or enjoy both activities simultaneously by staying overnight inside them; whatever suits your fancy best will be possible here depending upon how much time each activity takes relative those others involved with going sightseeing during high tide hours being prime examples.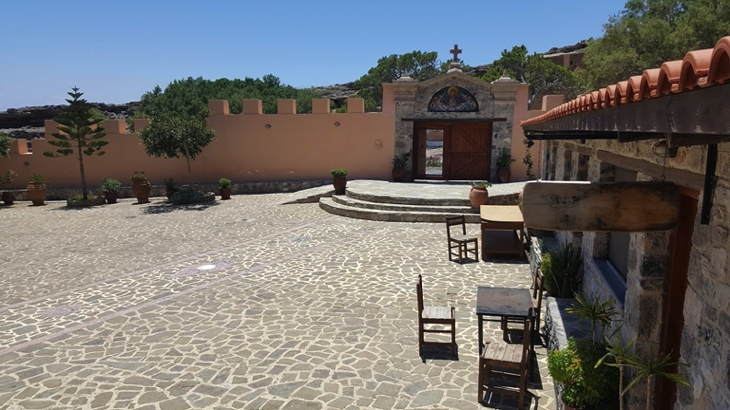 The nearby Monastery of Koudoumas is also a fascinating place to visit. It's dedicated in honour of the Assumption, and you can see old frescoes dating back centuries from when it first became an active church during the 14th century. Every year, on August 15 and July 10, when the monastery celebrates, hundreds of devotees travel there to take part in the feast and spend the night on the beach.
If you arrive in Koudoumas, you should take a 15- to 25-minute walk west to the Avvakospilio Cave, the place the monks lived. Stalactites, stalagmites, and large columns make up the cave's striking interior design. The cave was once used as a place of worship for a fertility goddess, where childless ladies were brought. You could also travel the trail for 60 to 90 feet to reach St. Anthony's cave. Additionally, if you enjoy walking, you can take the historic trail to the east that leads to the settlement of Paranimfi.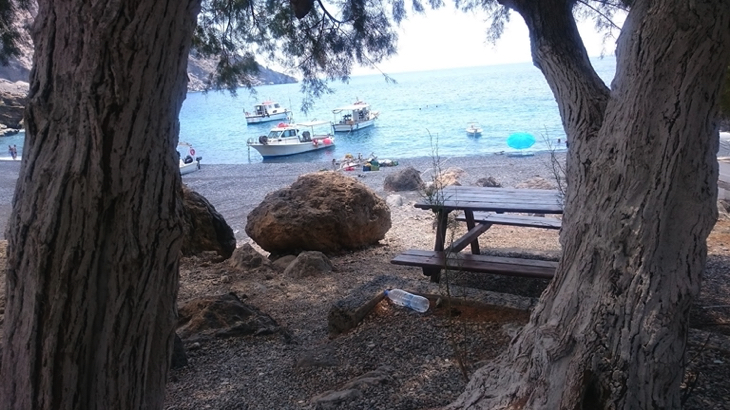 How to get to Koudoumas Beach?
You can reach the beach of Koudoumas either by taking a bus, renting a car, or taking a taxi.
By Bus
A great way to get to Koudoumas beach is by taking the bus. Not only is it an efficient way to get from place to place, but it's also a great way to meet locals and learn about the culture. The buses in Crete are clean and comfortable, and the drivers are always friendly and helpful. And because the island is so large, there's always something new to see along the way, whether it's a hidden beach or a hidden archaeological site. So if you're planning to visit Koudoumas beach, be sure to take advantage of the local bus system.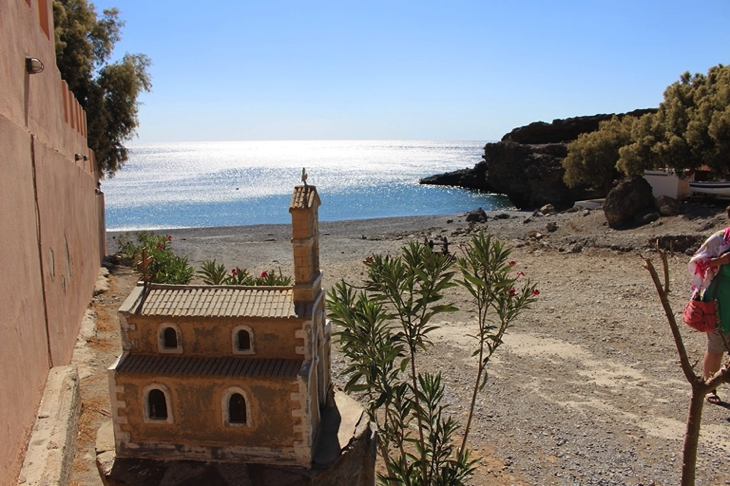 Car Rental
While there are many ways to get to Koudoumas beach, one of the best is by rental car. This way, you can easily visit all of the island's highlights at your own pace. Plus, with a rental car, you'll have the freedom to explore some of Crete's hidden gems that are off the beaten path. So if you're looking for a hassle-free way to see all that this beautiful island has to offer, be sure to add a rental car to your travel plans.
Taxi
Crete is a large island in the Mediterranean Sea, and it can be difficult to get around if you don't have your own transportation. Fortunately, there are plenty of taxis available to help you to Koudoumas beach. The rates are reasonable, and the drivers are usually very friendly and helpful. You can flag down a taxi on the street, or you can call one of the many taxi companies to come to pick you up. Just be sure to agree on a price before getting in so that you don't get overcharged. With a little planning, getting around Crete by taxi can be a fun and easy way to see the island.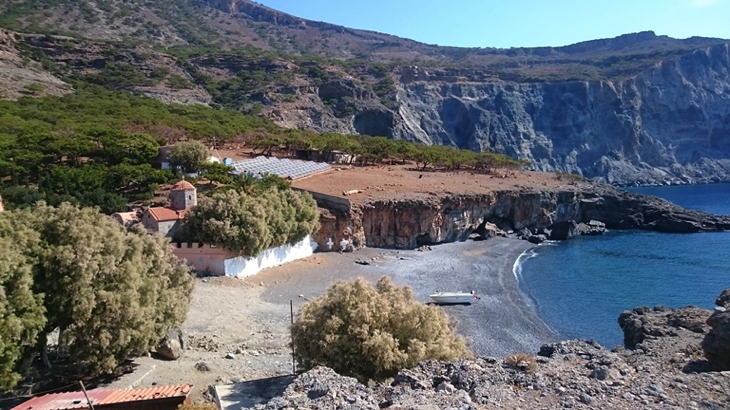 Best time to visit Koudoumas Beach
The best time to visit Koudoumas Beach is from May to September, when the weather is warm and sunny. During this time, the beach is busiest with locals and tourists alike. However, if you prefer a quieter and more relaxed atmosphere, the best time to visit Koudoumas beach is in April and October. During these months, the beach is much less crowded, and the water is still warm enough for swimming. Whichever time of year you choose to visit, Koudoumas beach is sure to provide you with a memorable experience.
Other beaches near Koudoumas Beach
Here are the most noteworthy beaches near Koudoumas beach.
Agios Antonios Beach
Agios Antonios (St. Anthony) is situated between the community of Agios Ioannis and the Monastery of Koudoumas, 71 kilometres south of Heraklion. Only a pathway between Agios Ioannis and the monastery provides access to the remote location. The trail weaves in and out of pine trees. You can find a modest church dedicated to St. Anthony inside an impressive cave. The beach's deep, clear seas and coarse sand are its well-known features. High cliffs and little caves that provide shade surround the beach as well. Due to the challenging access, this area is practically isolated and great for fishing and solitude.
Agios Ioannis Beach
Agios Ioannis Beach is one of the most beautiful beaches on the island. The sparkling azure waters and soft white sand make it a perfect place to relax and enjoy the incredible views. The beach is close to the Agios Ioannis village, making it easy to find a sun lounger or parasol for hire. There are also plenty of restaurants and cafes nearby, so you can enjoy a refreshing drink or bite to eat in between swimming and sunbathing. Whether you're looking for a peaceful spot to soak up the Mediterranean sun or an action-packed day by the sea, Agios Ioannis Beach Crete is not going to disappoint.
Sweet Kolimbos Beach (Glykys Kolimbos beach)
Sweet Kolimbos Beach is a stunning stop on your Crete vacation. With crystal-clear water and soft white sand, it's the perfect place to relax and soak up the Mediterranean sun. But the beach isn't just a place to lounge around; there's also plenty to do. The three amazing caves at the eastern end of Sweet Kolimbos, however, stand out because they connect with one another like rooms. The first cave resembles a swimming pool, while the biggest cave is 20 metres high. At the easternmost point, a striking stone bridge can also be seen. If you visit Koudoumas Beach, make sure to stop by this amazing beach as well.
Kaminaki Beach
The beautiful Kaminaki Beach is found at the southern edge of the Asterousia Mountains along the southern coast of Crete. The beach is situated in a picturesque setting among the mountains, cliffs, and gorges. Since this beach is not well known, it is ideal for leisure and isolated relaxation. In order to get there, you have a variety of transportation choices to choose from, making getting about the island simple and comfortable. You can take a bus, a car, or a taxi to go to Kaminaki Beach.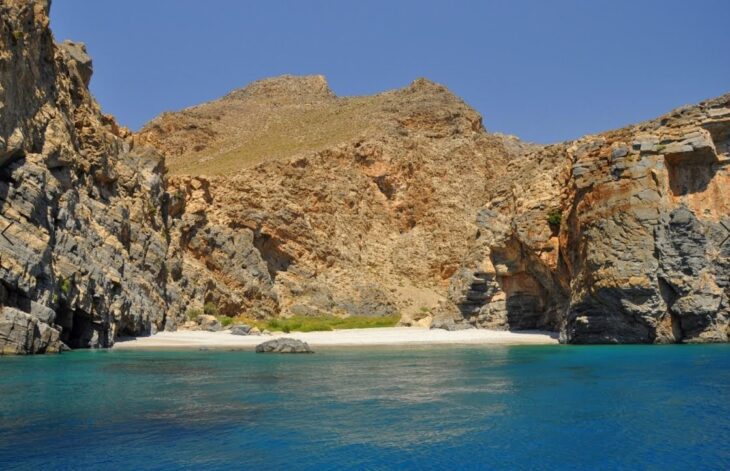 Tris Ekklisies Beach
Another breathtaking beach close to Kaminaki beach is Tris Ekklisies, which is also isolated on the island's southern shore. The little town and its beach, which are tucked away at the opening of the magnificent gorges of Ambas, are incredibly beautiful, especially when viewed from above when travelling along the perilous road that winds its way down the slopes from the village of Paranymfi. Tris Ekklisies' beach is pretty attractive even though it is not equipped with umbrellas or loungers. More people began travelling to the village once the access road was upgraded, but it continues to be a real getaway.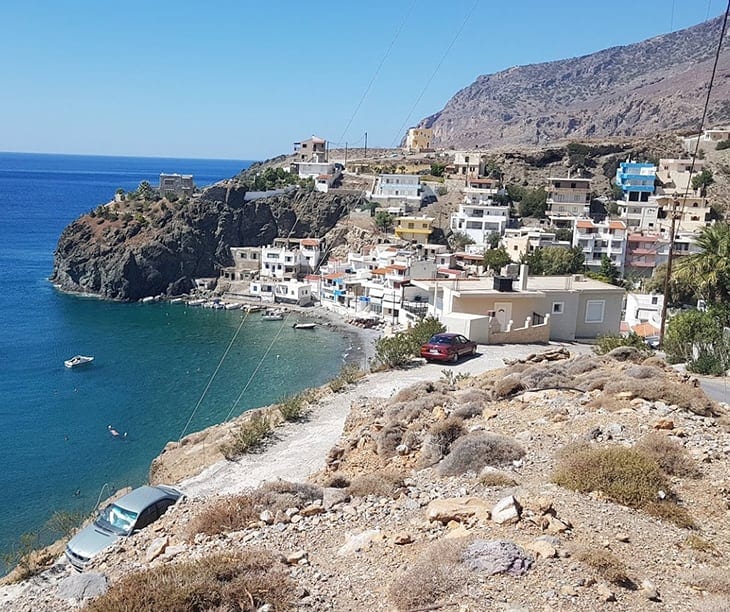 Myrtos Beach
Myrtos (or Mirtos) is an excellent destination for holidays that combine pristine nature and fantastic beaches. It's also a wonderful region to explore by car, with lovely villages, secret beaches, and beautiful drives. Myrtos is in the Lassithi prefecture, the easternmost portion of Crete. It is near the town of Ierapetra and is easy to reach by car. The area around Myrtos has been inhabited since Minoan times.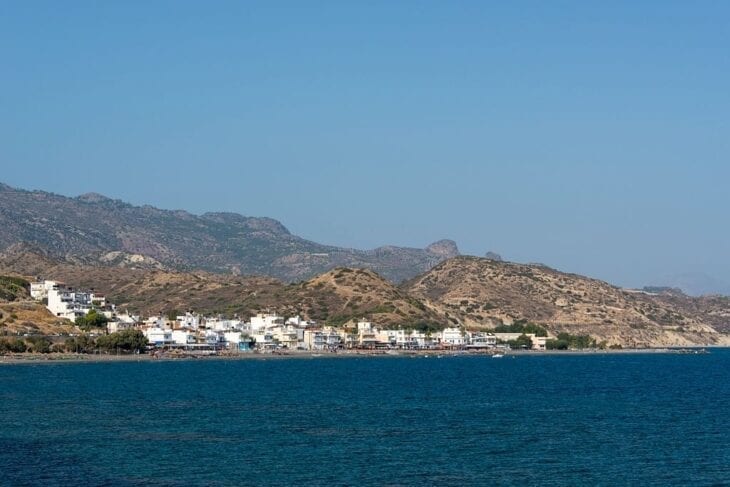 Psari Forada
Psari Forada Beach is located 88 kilometres south of Heraklion and 58 kilometres west of Agios Nikolaos. The beach is long and sandy, and it is protected from high winds by capes on both sides. Psari Forada is believed to be located in the ancient town of Sidonia. It was once a seaside village of fishermen and farmers who came from the nearby village Kalami. The region's mild temperature is ideal for cultivating olive trees, subtropical fruits like bananas, and even outdoor vegetables. The ride from Heraklion to Psari Forada will take you around 1 hour and 22 mins. Renting your own vehicle allows you to travel at your own convenience and pace