Lasithi is a region filled with beautiful, lively towns. However, one town that certainly stands out is none other than Agios Nikolaos. With famous tourists spots like Lake Voulismeni, Voulisma Beach, and Spinalonga island, it is easy to see why Agios Nikolaos is visited by hundreds of thousands of people each year.
Other than these fantastic attractions, the town is packed with hotels fit for all needs and budgets. You can find hotels that offer great amenities for half the value or even luxury hotel rooms that will satisfy your high-end requirements.
Top Hotels in Agios Nikolaos
Regardless of what type of trip you are planning (business, pleasure, etc.), there is a hotel designed to accommodate your stay. However, deciding which hotel best suits you can be difficult, but worry not because we have done all the research for you!
We've compiled a list of the top Agios Nikolaos hotels to book for your next visit. Check them out below:
Budget Hotels in Agios Nikolaos
Just because you're on a budget doesn't mean you can't stay in the lap of luxury. There are plenty of Agios Nikolaos hotels that provide bargain rates without sacrificing quality or customer service. These budget-friendly hotels only cost around €50-€60 per night, making them perfect for travelers who want to experience the tranquility of Agios Nikolaos without hurting their wallets. By booking on these budget hotels you can save some money in order to hire a car and explore other parts of Crete Island.
Anemone Homes
Located right on top of a hill overlooking the magnificent beach of Voulisma, Anemone Homes is a place travelers can come relax, unwind, and rejuvenate. The accommodation offers different types of rooms with easy access to the beach, so you can enjoy your stay without having to miss out on the fun.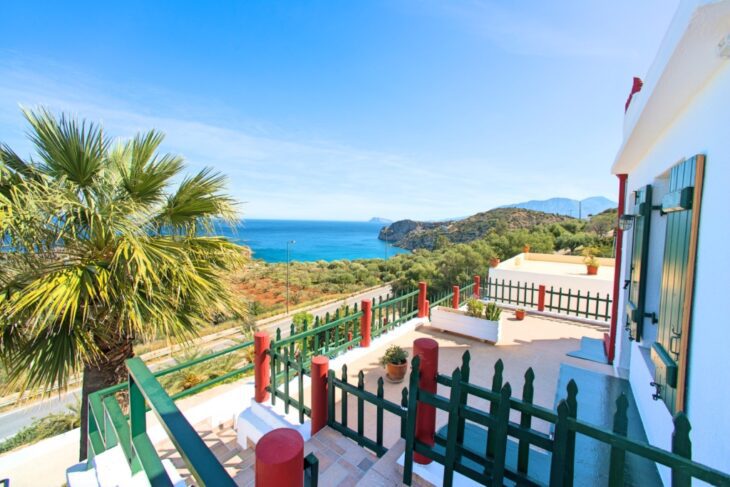 All rooms are equipped with AC, TV, fridge, kitchenette, and even a coffee maker. Plus, the surrounding area is filled with shops, taverns, and the best restaurants in Agios Nikolaos. If you've got pets along with you, this place will be perfect since they're certified pet-friendly.
Anemone Homes is the ideal hotel for individuals and families who want to experience a peaceful vacation away from all the bustling city life.
Address: National Road, Istron, Agios Nikolaos, Crete
Website: https://anemonehomes.com/
Contact: +30 2841 041591
Sgouros Hotel
Ideal for couples that want to enjoy a romantic getaway with breathtaking views, Sgouros Hotel is the place to be. Located just a few minutes away from Lake Voulismeni and even facing the beautiful Kitroplatia beach, you can bask in both the peaceful tranquillity of nature and indulge in some fun beach activities.
Sgouros Hotel is just 200 meters away from the town center. This means you can spend your evenings wandering around the town and exploring different shops, cafes, and restaurants.
All rooms have air conditioning, flatscreen TV, fridge, telephone, and balcony with views of the sea or garden. Their suites are elegantly designed with white walls, colorful accents, and unique fixtures. This hotel is perfect for couples looking to experience Agios Nikolaos's beauty while indulging in a more quiet setting.
Address: N. Pagalou 3, Agios Nikolaos
Website: https://www.sgourosgrouphotels.com
Contact: +30 2841 028931
Ammoudara Beach Hotel & Apartments
Located on Ammoudara's magnificent sandy beach, which has been honored with a blue flag award, this cozy apartment/hotel is the perfect place for families and groups to take a relaxing vacation. The area is accommodated with a luxurious pool where you can take a refreshing dip. However, if a pool doesn't seem to fit your wants, you can always visit the nearby beach. Its pristine clear waters will make you never want to leave.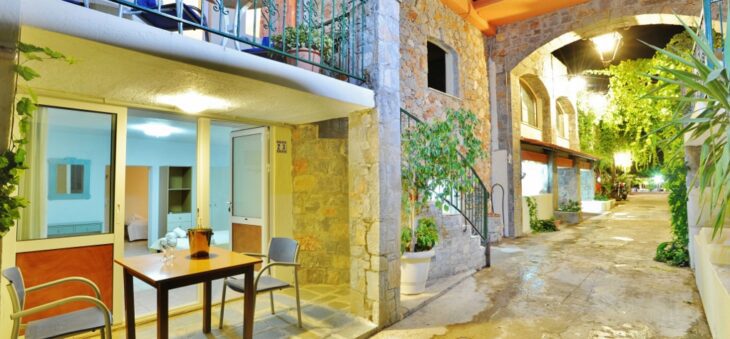 The hotel has great amenities that will make your stay even more comfortable, including AC, TV, a minibar in each room, and a balcony that offers sea views. They even have a restaurant and coffee bar on-site, adding to the overall convenience they offer.
Address: Ammoudara, Agios Nikolaos
Website: http://www.ammoudarabeach.gr
Contact: +30 284 102 8568
Pergola Hotel
Another hotel with a breathtaking view, the Pergola Hotel, offers comfortable rooms and suites equipped with all the modern amenities you could think of. Unlike the other hotels on the list, the bustling life of the town can be heard and seen from this place. It's ideal for people who want to mingle, explore, and experience a taste of city life.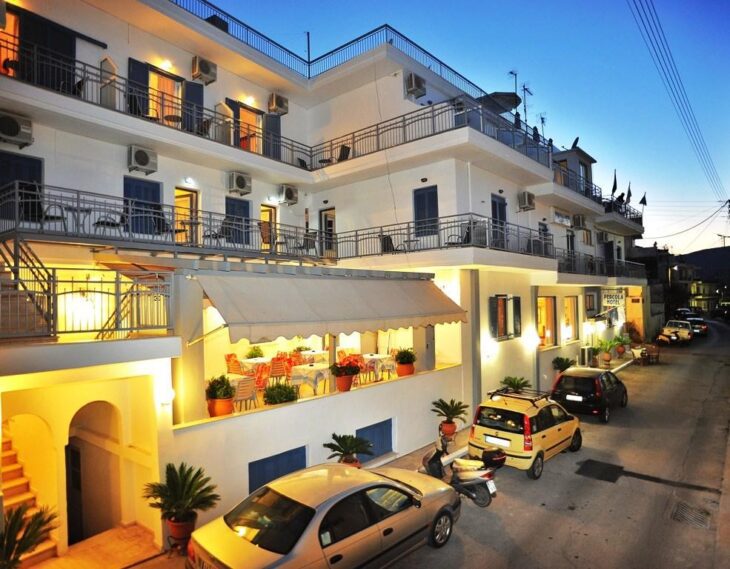 Their rooms are supplied with an AC system, private balcony, fridge, telephone, and even a flatscreen TV. You can enjoy a cup of coffee gazing out into the balcony or a soothing bath in the privacy of your own room. Plus, they have spacious meeting areas for you to socialize with other guests or just simply hang out. Restaurants, cafes, and shops also surround the area. Therefore, you can enjoy a variety of cuisines and experience the culture of Agios Nikolaos up close.
Address: 20 Sarolidou St, Agios Nikolaos
Website: https://www.shouthotels.com/pergola-hotel-agios-nikolaos-greece/
Contact: +30 2841 028152
Mid-Range Hotels in Agios Nikolaos
If you've got a bit of money to spare, staying in a mid-range hotel in Agios Nikolaos is also a great option. You can find a hotel close to the beach with all the amenities you could think of or one that's in the heart of the city where you can explore all the shops, restaurants, and cafes to your heart's content. Whatever your preference may be, these top mid-range hotels in Agios Nikolaos will surely satisfy you.
Mistral Bay Hotel
Despite the flexible price, the Mistral Bay Hotel still offers luxurious accommodation for you to stay in. Their rooms are elegantly designed with light blue, grey, and white color schemes that give off a calming effect. In addition, all of their rooms have crisp linens and quality mattresses to make your sleep more relaxing than ever.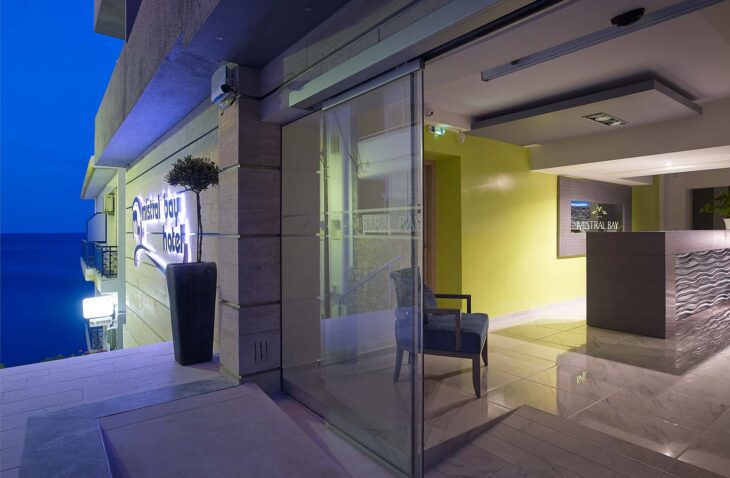 Aside from the usual amenities you can expect from most hotels these days, the Mistral Bay Hotel offers guests a bar lounge to chill in, a pool table to play with, and a restaurant for your meals.
In addition, an exclusive pool and private beach can be found within their premises, giving you a choice of where to hang out. For those looking for a private holiday with friends or family, this hotel is ideal for you.
Address: 10 Marathonos & Milatou Str., Agios Nikolaos
Website: https://www.mistralbay.gr/
Contact: +30 2841 090330
Ikaros Art Hotel
Ikaros Art Hotel is a cozy yet elegant hotel ideal for families. It is located in a quiet and peaceful street right in the heart of Agios Nikolaos. Despite not having its own pool, the "blue flag" rewarded Kitroplatia Beach is just 50 meters away from the hotel, allowing guests to enjoy a swim when they please.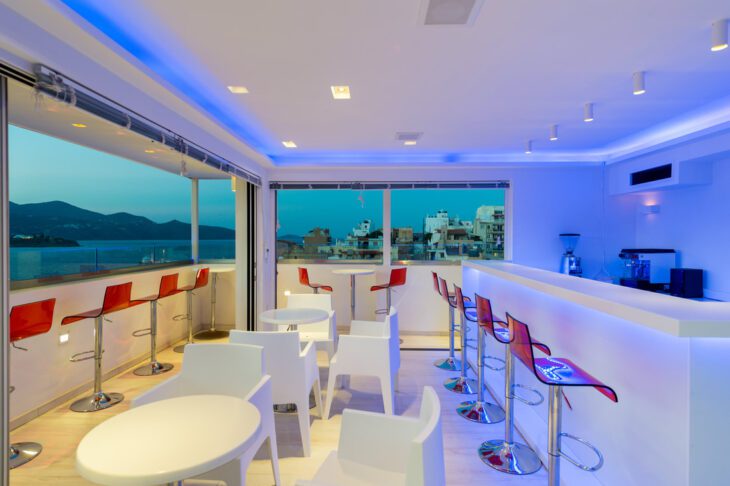 Their rooms are decorated tastefully in the likes of contemporary Greek style. The combination of light and dark colors prevails in their interior, giving it a relaxing atmosphere perfect for rest and recovery from the stress of daily life. They also have balconies adorned with comfortable chairs, which have an amazing view to go along with it.
All their rooms are fitted with high-grade furnishing, top-notch fixtures, and fittings. Your stay is sure to be memorable with the quality of service they provide, not to mention the relaxing atmosphere that prevails within their premises.
Address: 6 Kastellou Mirabellou & Alexomanoli street, Agios Nikolaos
Website: https://www.ikarosarthotel.gr/
Contact: +30 2841 028901
Cretan Village Hotel
The Cretan Village Hotel is a one-of-a-kind resort set on top of a hill, surrounded by untamed nature. It is designed in the form of an old Cretan village, complete with stone-paved paths and traditional Cretan architecture. Yet, despite its design, this resort is equipped with all the modern amenities needed to make your stay comfortable and enjoyable.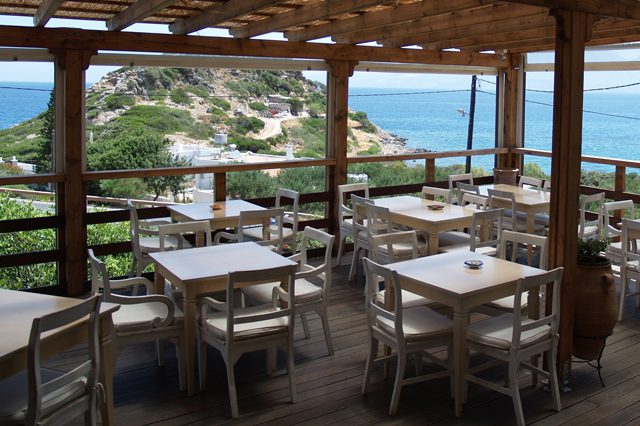 Each room is designed to set out a cozy mood. With wooden furniture and stone walls, it helps guests feel more relaxed and at home. The resort has a total of 37 rooms available, and each one comes with its own kitchenette, Wi-Fi, and a private balcony that shows a mesmerizing sea view.
If you want to take a dip in the pool or a refreshing ocean swim, the Cretan Village Hotel has you covered. They have a large outdoor swimming pool, a beach a few walks away from the hotel, a restaurant, and a pool bar to help you unwind.
Address: Amoudara, Agios Nikolaos
Website: https://www.cretanvillagehotel.com/
Contact: +30 28410 28576
Faedra Beach Hotel
Located on the tranquil and sandy beach Ammoudara, the Faedra Beach Hotel is a resort that focuses on the relaxation of its guests. It has all the facilities you need to enjoy your time by the pool or ocean. Guests will also appreciate the fact that they can easily walk around Agios Nikolaos, as it is just a few minutes away from this beachfront hotel.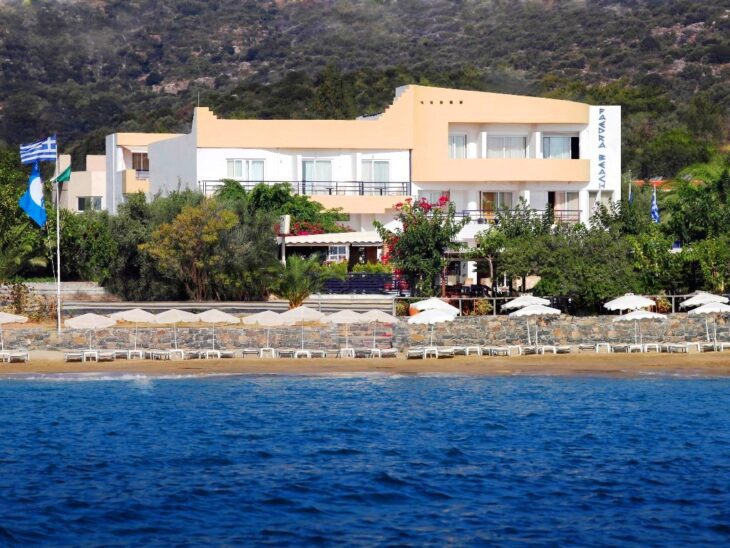 Their rooms are painted with elegance and sophistication. Neutral tones and contemporary furniture dominates the interior, making it a relaxing place to be at. With amenities such as air-conditioning, Wi-Fi, and comfortable balconies with mesmerizing views, you will certainly have a vacation without any worries.
The resort itself is a haven for those who want a peaceful holiday by the sea. Plus, they're pet-friendly, so you can bring your fur-kids with you to enjoy the lovely Cretan summer breeze.
Address: Ammoudara, Agios Nikolaos
Website: https://faedrabeach.gr/
Contact: +30 2841 023956
Luxurious Hotels in Agios Nikolaos
They say that the road to success is paved with hard work and determination. But, sometimes it's good to sit back, relax and enjoy life's luxuries. And what better way to do so than staying in one of Agios Nikolaos' luxurious hotels?
These five-star hotel establishments are the perfect getaway for people who want to indulge in the finer things life has to offer. Not only are their facilities top-notch, but they have rooms that are fit for royalty. Check these top luxurious hotels in Agios Nikolaos:
Minos Beach Art Hotel
Among the most expensive but money-worthy hotels is none other than the Minos Beach Art Hotel. The resort's ambiance is nothing short of extravagant, with marble-paved terraces and luxurious amenities. They are equipped with pools, a fitness center, a spa, and wonderful bars and lounges. Plus, the beachfront location and the beautiful sunset view make it even more enjoyable.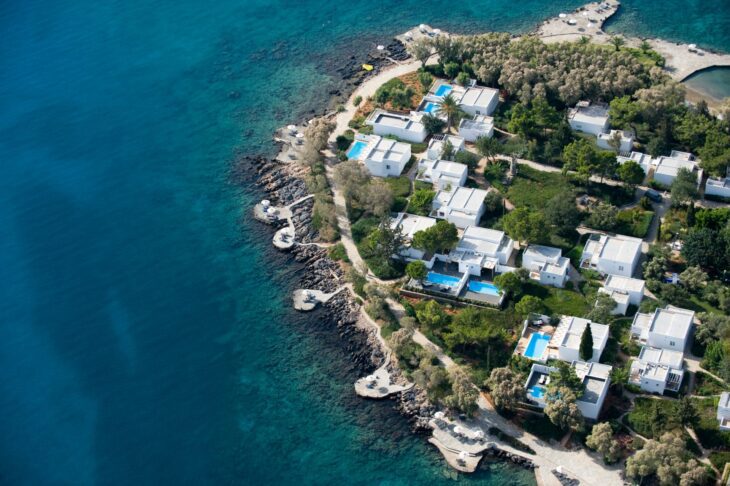 When it comes to their rooms, you will be impressed by each unit's sheer size and comfort. In addition, It features a unique design that screams simplicity and elegance. Each room has a flatscreen TV, AC system, a minibar, a terrace, and a walk-in shower. Overall, it's a comfortable and luxurious hotel to stay at, especially if you want to treat yourself to the finer things in life.
Address: Akti Ilia Sotirchou, Agios Nikolaos
Website: https://www.minosbeach.com/
Contact: +30 21 1198 3205
Candia Park Village
Candia Park Village is a resort with everything guests need to have a fun and relaxing vacation. It's a Cretan-style village located on the sea between Agios Nikolaos and Elounda. The blue crystal waters and soft sand beaches, luxurious amenities, and great restaurants this hotel offers will impress you. You can escape from your busy life and just relax in one of their beautiful pools or even take a dip in the crystalline waters of Agios Nikolaos.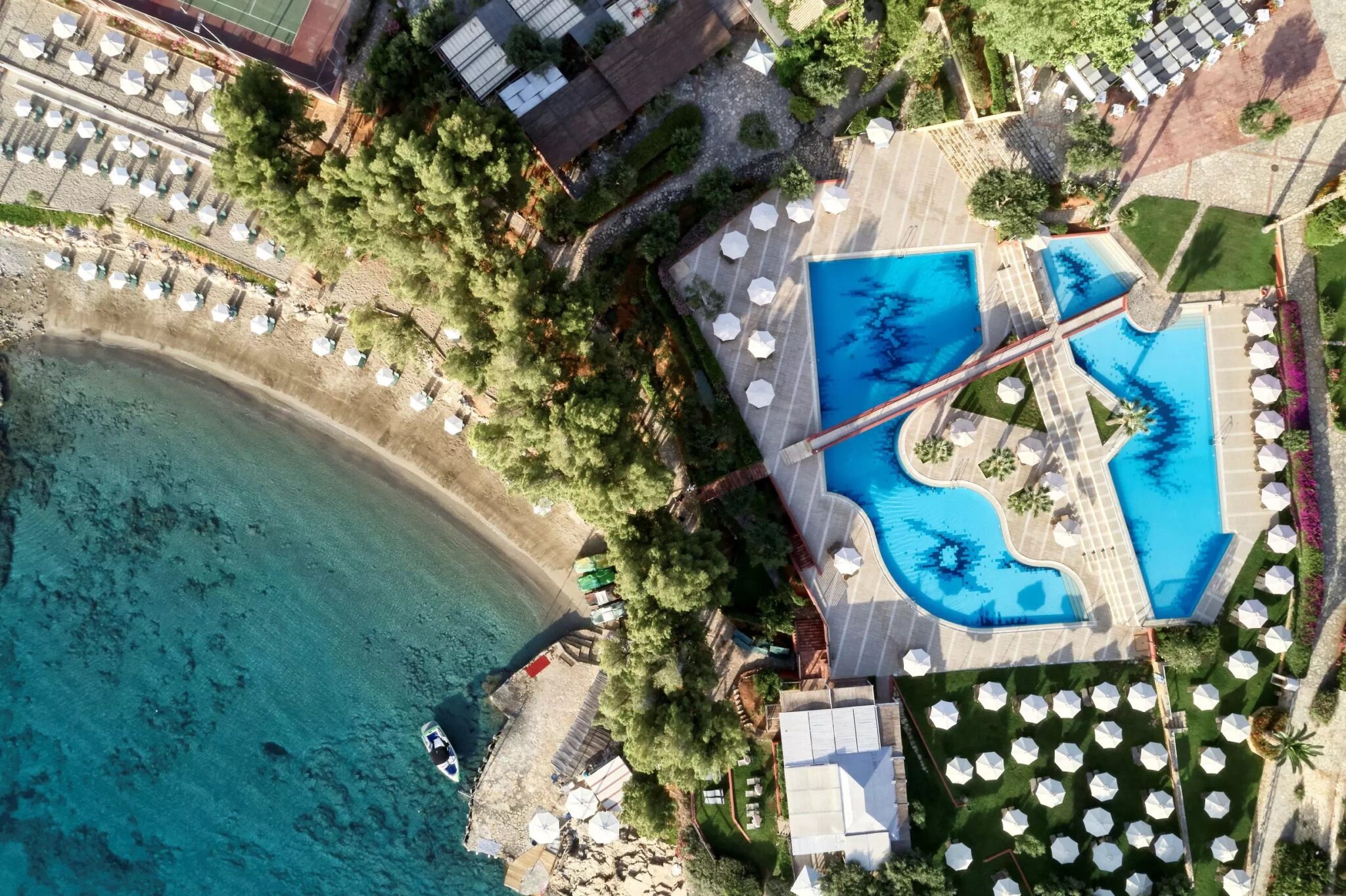 The rooms are spacious and furnished to create a comfortable stay for their guests. You can expect a cable TV, walk-in shower, air-conditioning, private balcony, and even a coffee maker for that perfect cup of Joe.
The village is made up of 222 various types of units spread out over 65.000 square meters of lavish gardens. Your stay here will be nothing short of heavenly and relaxing.
Address: Agios Nikolaos
Website: https://www.candiapark.com/
Contact: +30 2841 026811
St. Nicolas Bay Resort Hotel & Villas
Another top luxury hotel in Agios Nikolaos is the St. Nicolas Bay Resort Hotel & Villas. Right from the moment you enter the resort, you will become a part of a world that will provide you with amusement and peace. It has a natural beauty that will instantly relax your mind and body regardless of whether you visit it during summer or winter.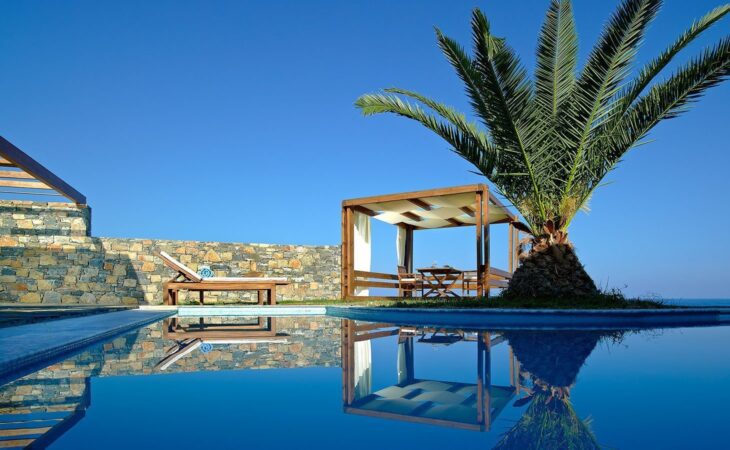 This hotel offers its guests a fitness center, a spa, and even a tennis court. When it comes to their restaurant, their mouth-watering Cretan and international dishes will leave you wanting more. Their pool and minibar will give you the capacity to decompress and satisfy yourself with your stay. If you want to bury your toes in their soft, white sand beach and crystal clear waters, then you can do so, too!
As for their rooms, you will love the fact that they offer a breathtaking view of the sea and its surroundings. Each room has a TV with satellite channels, a safety deposit box, air-conditioning, and much more. As you can see, they offer everything you need to make your vacation worthwhile.
Address: Thessi Nissi, Agios Nikolaos
Website: https://www.stnicolasbay.gr/
Contact: +30 2841 090200