East Crete is a fantastic travel discovery. This spectacularly beautiful side of the island is famous for the beauty of its beaches, and in fact this is where the first luxury resorts of Crete are located. However, despite this, East Crete is relatively less traveled than the much more famous west side. Many visitors come here and simply stay, basking in the luxury of the first-class resorts. And it's not a bad way to spend a holiday to be sure! But what this means for the traveler with a sense of adventure – and ideally a rental car – is a relatively unexplored pristine landscape to explore, full of discoveries – beaches, cultural sites, gorges, waterfalls, caves, and even an island or two.
East Crete – Getting Oriented
East Crete and the glorious Lasithi region is very easy to reach. If you're arriving at Nikos Kazantzakis International Airport in Heraklion, you'll find a car rental depot directly at Heraklion airport. You can be on the road in no time at all, enjoying the gorgeous coastal drive to Agios Nikolaos, the main port city of Lasithi, only 45 minutes away. The eastern coastal town of Sitia is another hour and a quarter from Sitia airport. Both areas make a fine home base for your explorations.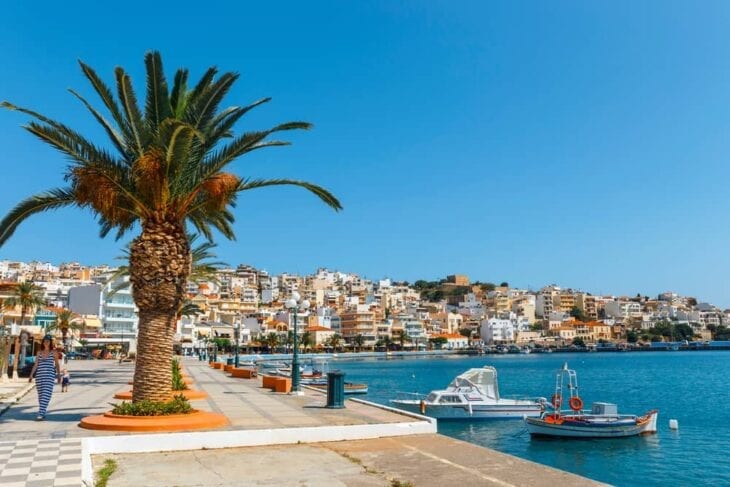 If you're arriving in Crete by ferry, a car can be waiting for you at the port of Heraklion when you disembark, for an easy departure.
Where to Stay in East Crete
Your choice of accommodations in Eastern Crete is excellent. While some of Crete's most glamorous resorts are in eastern Crete, there are also smaller boutique accommodations, simple rooms, family-style accommodations, and even hostels – something ideal for every travel style.
For all-out luxury, you might consider staying on the aptly named Mirabello Bay. The newly opened Wyndham Grand Crete Mirabello Bay is stupendous – with a chic modern decor that nonetheless reflects the beachside vibe. The private beach is heavenly, and so is the food. Families will love the Candia Park Village, also with a gorgeous beach, lined with trees. There is a fantastic watersports facility offering guided beginning scuba dive experiences. For a little Italianate glamour, you could try the Porto Maltese Boutique Estate in an atmospheric old Mansion.
Are you on a budget? Then check out the friendly and enchanting family-run Pension Mylos.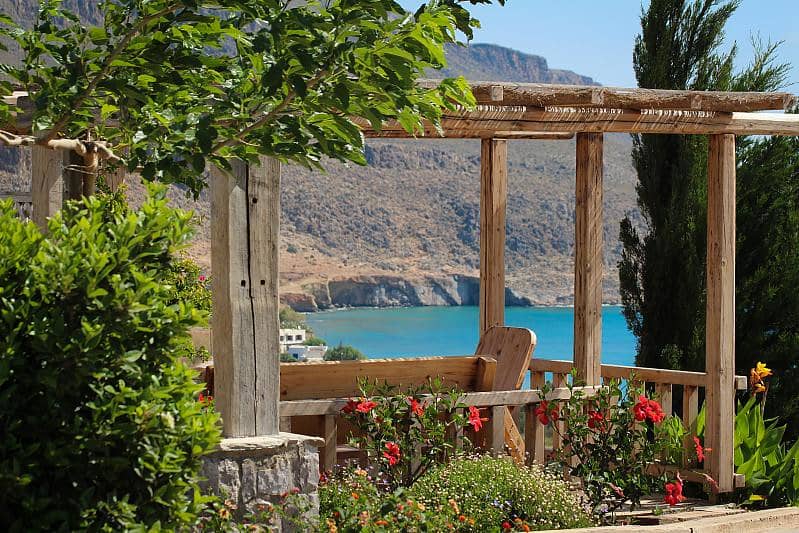 Or, you could try something completely different. For utter peace and relaxation and an amazing sense of positive energy, you can head to Kato Zakros – a remote section on the east coast of Crete where the Minoan Palace of Zakros has been excavated, beside a lovely serene bay.
Here Terra Minoika provides rustic and extremely comfortable suites with views of the sea and of a night sky like nothing you've ever seen.
Major Points of Interest in East Crete
Where do we start? Eastern Crete is full of attractions of historic and natural interest.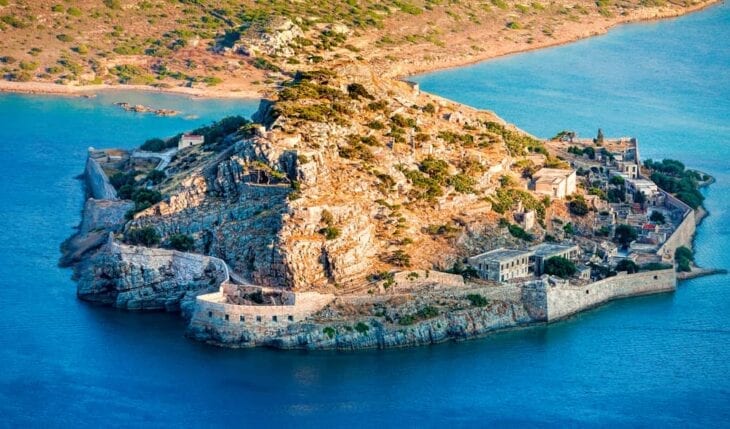 Spinalonga Castle, in Mirabello Bay, is one of the most fascinating.
The area surrounding the bay and the island itself were nearly uninhabited for many centuries, while pirates roamed the seas. In the 15th century though, the Venetians established salt pans here in the shallow seas, and fortified the island to protect their sparkling and lucrative trade from piracy. In time, Spinalonga became one of the most heavily fortified islands in the whole Mediterranean. It's a gorgeous sight. But there are actually two reasons to visit – the other is that this was a famous Leper Colony in the first half of the 20th century. Their story and the story of their flourishing society is told movingly in a museum set up among the ruins on the island, and is also the inspiration for the popular book "The Island" by Victoria Hislop.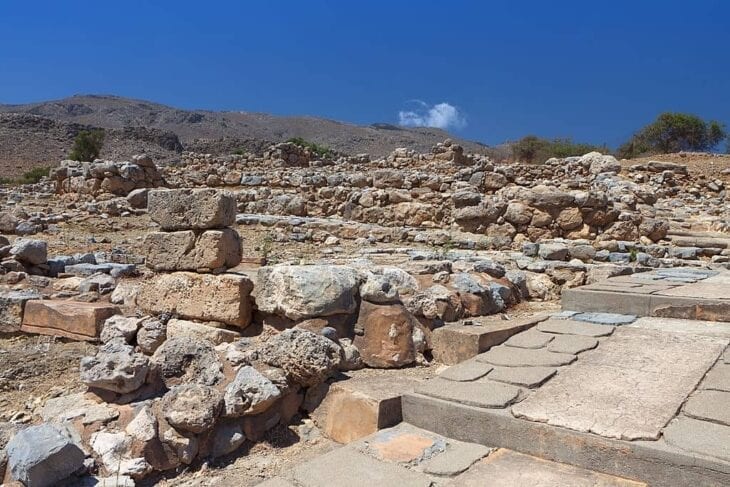 The Minoans, Crete's amazing and advanced Bronze Age civilization, also had a palace in Lasithi. The excavations of Kato Zakros are among the most recent to be excavated – by N.Platon, beginning in 1961. The excavations revealed a great and thriving center of trade. The Gorge of the Dead – so called as the Minoans laid their dead to rest in the caves high on the sides of the cliffs, is part of the E4 and makes for some splendid hiking.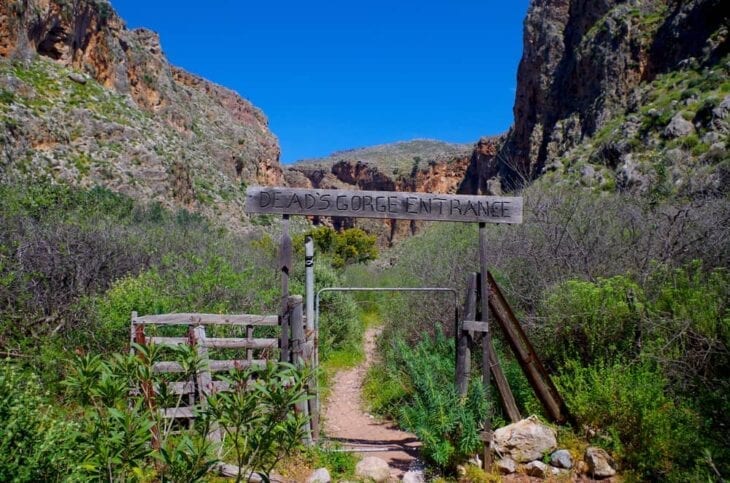 Vai beach is another spectacular destination. On the remote northeastern tip of the island is not just a stunning beach but a natural treasure. This is Europe's largest palm forest – a stunning sight.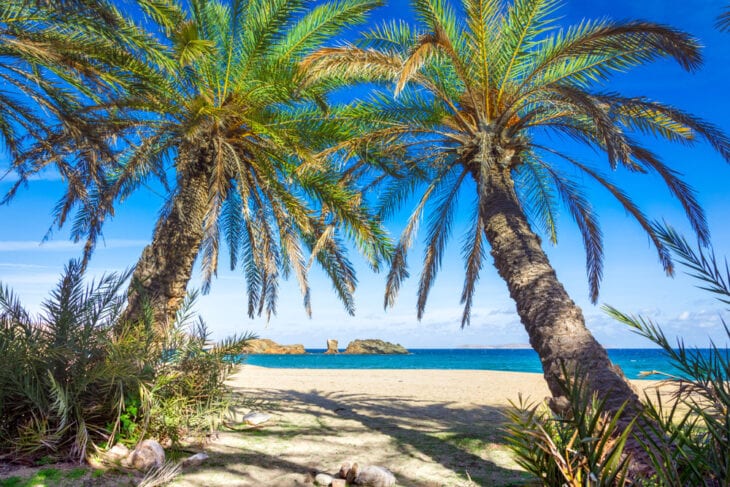 More natural treasures can be seen throughout the Sitia Geopark, part of the Global Geoparks network, this expanse of over 500 square kilometers encompasses a great variety of biodiversity and landscapes, gorges, waterfalls, beaches, and meadows.
Best Things to Do in Eastern Crete
One of the nicest ways to experience Mirabello Bay is on a boat trip. There are many organized boat trips that you can join, or trips can be arranged just for your own private group. You can explore the tiny islets of the bay and all of the secret cove, and even glimpse underwater ruins.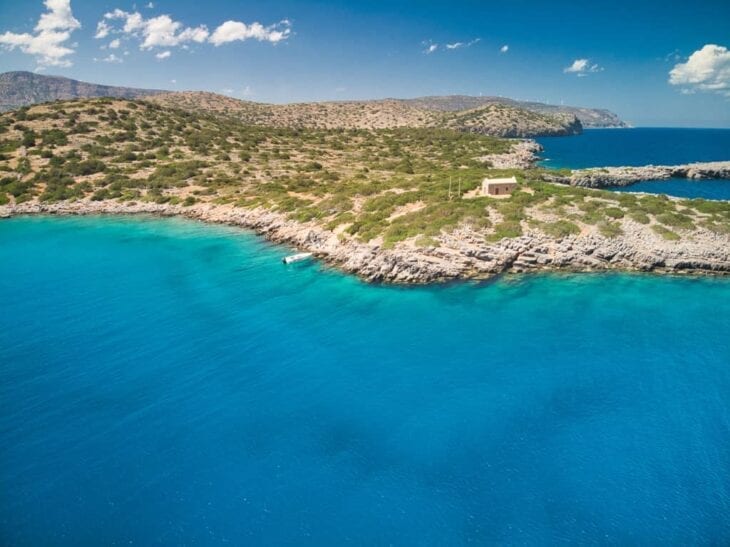 How about another island? Across from Ierapetra, in the glorious Libyan Sea, is Chrissi Island. An uninhabited paradise of golden and white sands and waters the color of jewels, this is some of the best swimming to be found anywhere. The island is covered in rare Lebanese cedar trees, a fragrant paradise.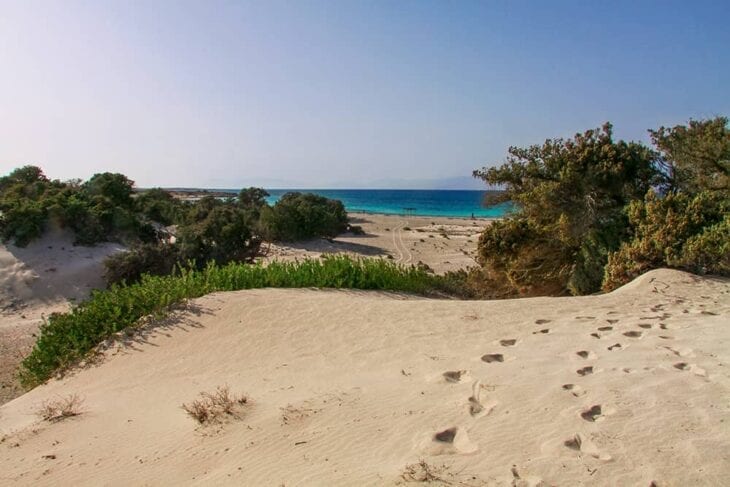 But one should not forget the inland pleasures of East Crete. In the beautiful village of Fourni in a fertile plain outside of Agios Nikolaos, you can spend a wonderful day on an excursion on horseback.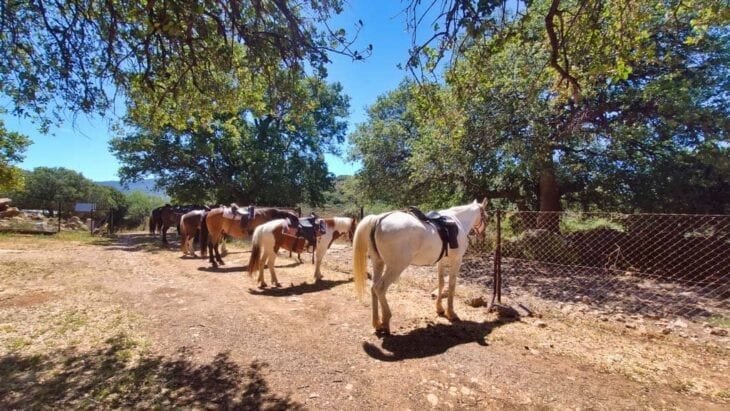 Hikers will love the gorges. The Richtis Gorge, near Sitia, offers a bonus – a 20 meter waterfall fills a cooling pool to refresh yourself mid-hike.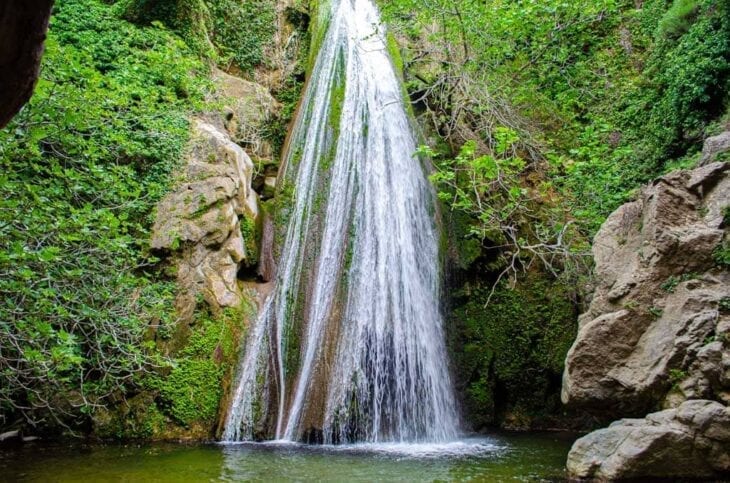 Cavers also love Sitia – there are over 300 chartered caves, with something for every level of skill. Consult the Speleological society for details and safe exploration.
Where to Eat in East Crete
Cretan Food is the best food in Greece. Frequent travelers to this largest of the Greek islands know that Crete has its own distinctive cuisine. Highlights include Staka – the top cream and butter of goat's milk, slightly thickened and served with fresh fried potatoes, "Chochlious" – snails usually fried in rosemary and doused with vinegar, and of course fresh fish and all manner of dishes based on goat.
For playful and innovative interpretations of Traditional Cretan dishes, you might enjoy Karnagio, in Agios Nikolaos. The added bonus is that you will be dining at the edge of Voulismeni – the lake next to the harbor.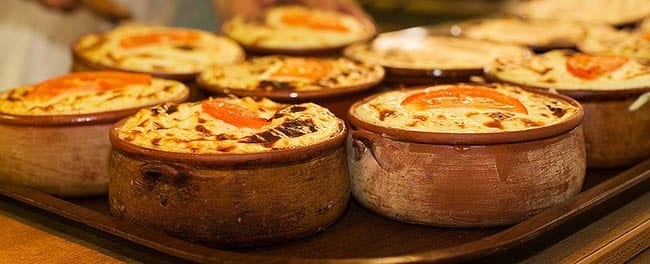 While you're in Ierapetra, the town where you get the boat to Chrissi Island, you'll definitely want to eat at Napoleon. This traditional restaurant with a decor straight out of the '80's is a local favorite for terrific homestyle cooking, and has one of the best mousaka you'll ever taste.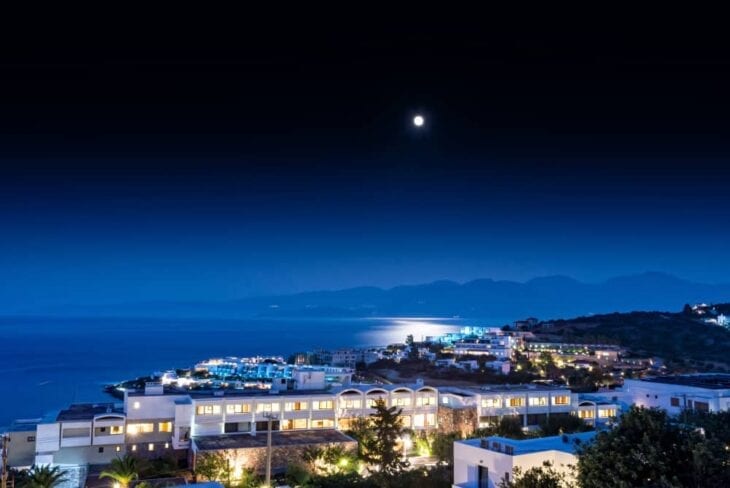 For something elegant, you might try the very popular and well-rated Terrassa restaurant, above Elounda with sweeping views of the bay.
Best Beaches in Eastern Crete
Beaches, of course, number among the finest activities in Crete and Eastern Crete in particular. You have a wonderful selection, from the glorious beaches of Elounda with full-service and plenty of style, to the remote pleasures of the beaches along the eastern and southern shores of the island – remote, pristine, and nearly untouched.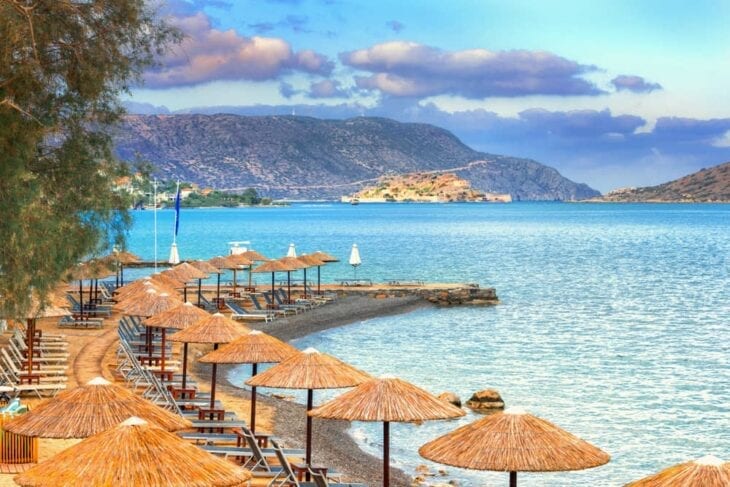 By Elounda and Mirabello Bay, you have some fantastic beaches, starting with the main beach of Elounda, which is a full service beach with sun loungers and umbrellas, and with many charming tavernas and cafes conveniently nearby.
Driros beach, which is shaded with pine trees, is across from Spinalonga Island for a beautiful view. There are also water sports facilities here.
Kolokytha Beach is a charming and secluded beach that is not organized – you'll find just a couple of trees for shade, so bring everything you might need. The waters are beautiful, and it is right across from a little islet of the same name. It is also sometimes called St. Luke's because of a nearby church.
On the remote shores of the south east coast are some fantastic secluded beaches. Try, for example Argyle Beach – this is also called "Spa" beach, because the cliffs are made of natural therapeutic clay. Soften the clay in the water, slather yourself head to toe, let it dry in the sun, then wash it off in the sea for the best natural spa treatment ever!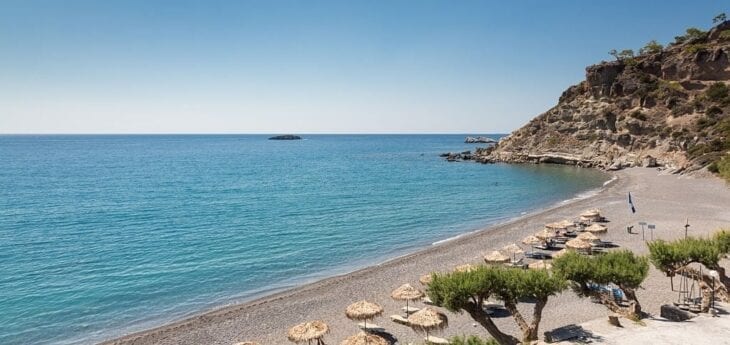 Near Ierapetra, on the south coast, is the glorious Agia Fotia beach – one among many fantastic choices.
East Crete
The Eastern side of Crete is one of the most rewarding areas to explore. You have the luxuries of the finest resorts in Greece here, but it's also far less crowded than the west side – especially outside of the area around Mirabello Bay – you will feel you have truly discovered something unique. The drives are also absolutely beautiful.