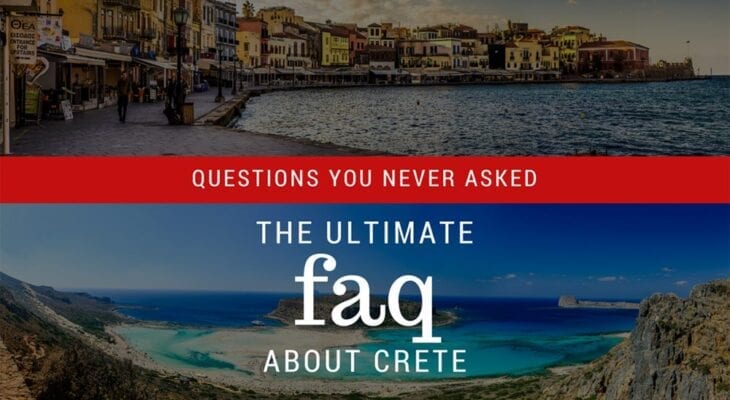 There are probably many things you have thought about Crete, the largest of the Greek Islands; for example, what is the best beach and how long can you get off work to enjoy it? However, here we will answer some of the questions you've probably never asked about Crete.
1. How do I get to Crete?
Usually the easiest way to reach Crete is to fly, either from within Greece or outside it. There are direct flights from many European countries, or it is possible to fly via Athens from most major cities in the world. Crete has three airports
– Heraklion, or Kazantzakis, Airport (HER)
– Chania, or Daskalogiannis, Airport (CHQ) and
– Sitia Airport (JSH).
Each is an international airport, although Sitia is brand new but very small.
Your other option is to get a boat to one of Crete's ports. There are Minoan Lines or ANEK/Superfast ferries from Piraeus (Athens) which takes about 6 – 8 hours. You can take it overnight, and wake up to beautiful views as you approach the island. Although it is not as fast as flying, it is very relaxing and enjoyable.
2. When should I go to Crete?
Crete is well known as a beach destination, however it is a beautiful place to visit year-round. The warmest and driest times to visit are May – September, where average temperatures average in the mid 20C (Celsius). It can get quite hot in the summer months, even up to the mid 30C or low 40C. Even the coldest winter month, January, still reaches an average temperature of 11C – so Crete has a very mild climate. Therefore, it is possible to enjoy the island all year, although it is far quieter in the winter months.
You can check the weather forecast here:

3. Where are the best places on Crete?
There are so many great places in Crete that it is hard to choose the best! Some of the most well know locations are Heraklion, the administrative capital with great shopping and cultural attractions such as museums; beautiful Chania with impressive architecture, amazing food and lively nightlife; Rethymno, a quieter town with gorgeous buildings and access to a long, sandy beach; and Lassithi with beautiful beaches and ancient remains, which make it a popular tourist region. Of course, there are countless other Cretan locations, as well – the key is finding the one that best suits what you want from your holiday!
4. What languages are spoken on Crete?
The official language of Crete is Greek, however English is widely spoken as well.
5. What is the population of Crete?
Crete is the most populous Greek Island, and fifth most populated island on the Mediterranean. It has an approximate population of 620,000 permanent residents.
6. What is the Cretan environment like?
Crete is home to incredible natural beauty, so it is a photographer or nature lovers paradise! It is geographically the largest island in Greece, and the second largest in the entire Mediterranean (after Cyprus), at over 8,300 km2. With over 1,000km of beautiful coastline, it is a truly spectacular place to drive around.
Inland, Crete has fertile lands with spectacular mountain ranges including the White Mountains, Idi Range and the Dikti Mountains. There are also rivers, caves and gorges – and of course, stunning beaches that have made Crete famous all over the world. Finally, Crete also has a surprising and diverse range of wildlife, including goats, frogs, turtles and many birds.
7. What should I wear on Crete?
There is no strict dress code on Crete, so you can wear most anything you are comfortable with or would wear back home. Of course, this means applying some common sense – if you wouldn't wear it grocery shopping at home, you probably shouldn't in Crete either! Also, the major exception is that if you visit any churches or Monasteries, both men and women should cover their knees and shoulders.
8. What should I do about money (and tipping)?
Crete, like all of Grece, uses the Euro. You can take out Euro notes from the many ATMs on the island, however it is best to make sure you have some spare cash over the weekends, as they are not always refilled. You can also use a credit card at most places, although it is a good idea to keep some cash for small purchases or tipping.
Most restaurants and cafes already include a service charge, however you can still tip if you feel it is appropriate. A small tip is enough and will be very appreciated! You can also tip other service staff like tour guides or cleaners at your hotel.
9. What food should I try on Crete?
Greek food is delicious, and Crete is particularly renowned as a culinary hub. There are many dishes to try on Crete! Cretan cheese varies from village to village, but is always tasty. Dakos is a popular bruschetta-like meal with tomato and cheese drizzled with olive oil and a variety of herbs. For something different, you can try chochlioi boubouristi, or fried snails! Finally, you might like to sample Raki or Tsikoudia (Cretan Brandy), a type of liquor made from distilled grapes, in the villages of Crete.
There are a countless number of places to enjoy Cretan food, and some of the most delicious food can be found in out-of-the-way villages. However, you can find traditional Cretan restaurants all over Crete at this page about top 8 restaurants to eat like a Cretan.
10. What souvenirs should I bring home from Crete?
There are many wonderful souvenir products to bring home from Crete, either as a memory from your holiday or a gift for friends and family. Some of the most popular souvenirs are food related, such as delicious olive oil or honey which is bound to transport you back to Crete each time you sample it!
Another great gift from Crete is ceramics, which have been made on the island for over 5,000 years! Crete is also famous for its beautiful religious paintings, known as 'icons', however antique icons cannot be exported from the island without permission.
11. What should I do in an emergency?
Crete is a very safe destination for tourists, however it is a good idea to note the emergency numbers in case of an accident or theft. The tourist emergency line is 112. The general emergency lines are: ambulance (166), police (100), fire brigade (199) and forest fire report line (191).
For some other emergencies (such as a lost passport), the best place to contact is your local embassy. Many countries have an embassy on Crete, otherwise you may need to travel to Athens. You can find a list of embassies on Crete here
12. How long does it take to drive from one end of Crete to the other?
Considering the most western point of Crete is Elafonissi Beach and the most eastern point of Crete is Kouremenos Beach, the distance is 354 km. The driving duration is 5 hours and 30 minutes. Here is the google maps link for this route
13. What side of the road does people in Crete drive on?
We drive on the right hand side.
14. What is the driving speed limit in Crete?
On the highway the speed limit is 90 km per hour (55 miles per hour). With the the city and road on the suburbs the speed limit is 40-50 km per hour (25-30 miles per hour). Of course you have to obey the signs restricting the speed limits. In some parts of the highway the limit could be less than 50km/hour.